Wits hosts the principals of top secondary schools
- Wits Communications
Wits University hosts principals from top achieving Gauteng schools
Wits University receives approximately 75 000 applications annually for about 6 500 first year places. Applicants hailing from across the country, with only the very best being admitted.
Many of Wits' top learners come from important feeder schools, who produce quality students that easily adjust to the academic demands at Wits University.
Educationalists from the feeder schools were recently at Wits for the Principals' Function, hosted annually by the University to honour leading school principals.
Wits Vice-Chancellor and Principal, Professor Zeblon Vilakazi, welcomed about 80 representatives at the event. "Thank you for nurturing learners through 12 years of schooling. These learners form the talent pipeline for the next generation of ethical and caring leaders, who will play a large part in solving the complex problems of the 21st Century," Vilakazi.
This annual event is coordinated by members of the Schools Liaison Office (SLO), who work closely with both traditional feeder schools and new schools to identify learners with potential.
"We would like to congratulate the schools and principals for the tremendous work that they are doing in preparing learners for tertiary education, and more importantly for making Wits their first choice," said Sershin Naicker, Head of the SLO.
"Last year, we received the greatest number of first year enrolments from Gauteng, and specifically the Johannesburg region. We will thus continue to build relationships with schools across the province, and beyond."
Two schools were singled out as being the top feeder schools in their respective sectors. The Parktown High School for Girls (PHSG) and the Bhukulani High School from Soweto received certificates as Wits University's 2021 top feeder schools.
The Principal of PHSG, Tracey Megom accepted the certificate, saying: "Our girls do well at Wits because of the innovative training we provide to create independent female leaders." She acknowledged the relationship with Wits, adding that the two have a long history and a shared vision.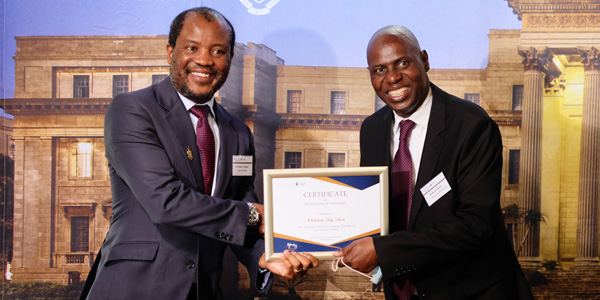 Principal Martin Sadiki received the award on behalf of Bhukulani High School in the quintile 1-3 category. "I am proud of our learners and commend our teachers for their hard in work in supporting learners, through the secondary school phase".
The principals were also enthralled by the guest speaker Dr Tegan Bristow, an NSTF-award winner who delivered an insightful talk titled the future of Creative industries and the fourth industrial revolution.
The SLO will continue to visit schools, attend career fairs, and make Wits the first choice for learners across the country.