Architecture student a regional winner of Corobrik competition
- Wits University
Research addressing monumental buildings inherited from industrialisation wins regional round and advances to nationals.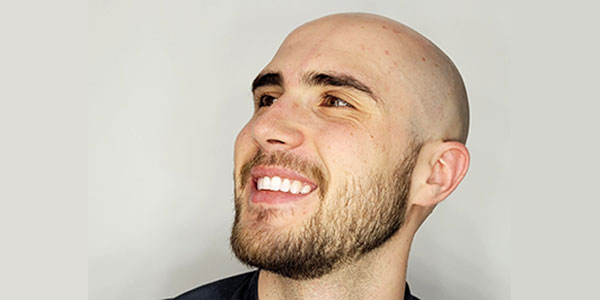 Enrico Pescivolo, a masters student in the School of Architecture and Planning has been declared the 35th Corobrik Student Architecture Awards Regional Winner. For his masterpiece, he walked away with R10 000 and stands a chance to win R60 000 at the nationals.
The winning work draws on Pescivolo's thesis titled Obsoles[s]ence: Recharting humanity's relationship with technology through the adaptive reuse of the Kelvin Power Station. Read the below Q&A between Wits Communication and Pescivolo breaking down his passions, why the research topic matters and his favourite architecture structures at Wits.
The School has congratulated Pescivolo on his win.
His research supervisor, Gustavo Triana, says it was clear from conceptualisation that the research would have a significant impact.
"Obsoles[s]ence is the response to some of the urgencies within our built environment.
During the conversations with Enrico about his project, his architectural concerns, together with a critical and judicious analysis of attention to detail, he structured a project that managed to cover various aspects of a highly relevant problem.
This award was not a surprise; it is indeed a well-deserved recognition for his excellent work that I hope will inspire other students and young architects to challenge the status quo, says a proud Triana.
Read the conversation between Wits Communication and Pescivolo.
What fascinates you about architecture that you decided to pursue masters?
I have always enjoyed the technical and construction industry as well as the arts and poetic facets of life. I was attracted to architecture because of the design aspect involved within engineering fields. For me, there was a lot of excitement surrounding artistic expression and creative thinking that could become a reality. Design and creative thinking that challenges us to problem solve outside of conventional thinking whilst still opening up a multi-faceted dialogue through artistic interpretation is a component of architecture that still continues to fascinate me.
All my qualifications are from Wits. I decided to advance my studies to gain an industry edge and to stand a greater chance of having my voice potentially heard in architecture. Additionally, it was a required step for potential architects to fulfill their masters degree in order to become a practising professional.
How did you select your research topic and why do you believe it is important?
Since I was a child I have always been involved with anything technological - be it computer parts or disassembling broken household appliances purely to learn how something works. Being a millenial, we have unfortunately inherited a world where the global warming crisis is increasing in severity. For me it was ironic how technology has played such a huge role in the advancement of our civilization but at the same time brought with it an existential threat and the concern was further compounded when hypothesising if this trend were to continue. Technology, which is a rather broad term, is deeply rooted in our existence so how can we continue producing modern technology in a way that is sustainable to the environment as well as the metaphysical essence of being human. In my eyes, so long as we continue the attitude of modern technology as an enterprise, not only is the environment at risk but our essence of being too. I believe it is important for humanity to constantly question their relationship with technology in a constructive manner where we actively solve global issues whilst perpetuating a mutual relationship between ourselves, nature and technology into the future. The symbolism of this effort is compounded when spaces that previously housed old technology and old technological attitudes become a site for transformation.
Tell us about two architecture structures at Wits that fascinate you?
The Oppenheimer Life Sciences Building and the Great Hall. The Oppenheimer Life Sciences building architecturally is one of the most intersecting on campus because of its architectural play between solid and void. Volume within is felt almost immediately in the main corridor which imbues a sense of open and lightness, whilst heavy concrete forms span in volumes as a reminder of weight. Within heaviness, light is returned with large circular punctures that harmoniously creates an interesting volume in a dance between solid and void. The Great Hall as a vehicle of narrative has always fascinated me. The Hall overlooks the Library Lawns unobstructed, proudly telling the story of Wits. It overlooks graduates and new Witsies, it has seen a number of protests at its feet and even taken a few scars. The Great Hall has become a symbol of Wits and a marker of a site of perpetual change. By standing in the presence of the Great Hall, you can feel its historical presence whilst simultaneously knowing that you are standing in history.
Is there anything else that you would like to share about your masters journey?
I will leave on a powerful notion I uncovered during my thesis which has profound effects: do not stop questioning and do not stop expanding your field of knowledge outside of your profession to be. As a species, we evolve when we think and we come up with even greater thoughts when we exchange them with others. The effect is multiplied when you gain the perspectives of other professions or interests. By opening a dialogue where thoughts are shared, we think and we expand our knowledge for the betterment of ourselves and each other. I am deeply honoured to fly the Wits flag!