A mathematician, historian and political scientist walk into a bar ...
- Wits University
Three former VCs, Chancellor Judy Dlamini, Stanley Bergman and Professor Zeblon Vilakazi toast #Wits100.
While history's complexity and non-linear nature may be jarring for even the most resilient souls, there's no doubt that with leadership, dreams and a great deal of savviness, progress is made.
This became especially clear when a mathematician, historian and political scientist walked into virtual "bar" to reflect on Wits University's place in history.
The three academics – all former Vice-Chancellors (VCs) – were led in discussion about the University, by the current Chancellor, Dr Judy Dlamini. As part of the launch of Wits' Centenary celebrations, which includes a R3 billion fund-raising campaign, Professors Colin Bundy, Loyiso Nongxa and Adam Habib made a toast to the institution with a drink of their choice. The nature of the online meeting may well portend how the next 100 years will take shape, as the three former VCs, together with current VC, Professor Zeblon Vilakazi, Wits alumnus and Chairperson of the Wits Fund Inc. based in the US, Stanley Bergman, proudly framed the University's past with their memories, while visualising the institution's future.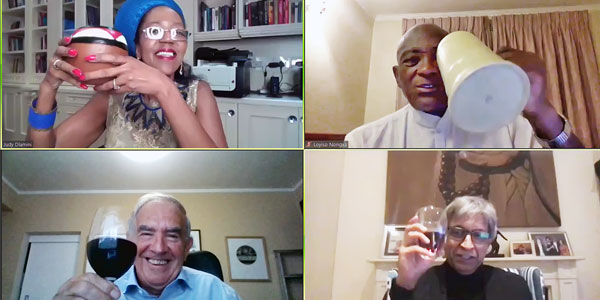 Historian Professor Colin Bundy – with a glass of excellent South African red wine, visiting Cape Town though usually based in Oxford, UK
Bundy, who was Wits' Vice-Chancellor between 1997 and 2001, told the audience (mostly alumni scattered across the world) that he came into office in the "wave of the transition, which shaped and enriched my tenureship." Bundy's term and contribution was, as Dlamini noted, in step with the fledgling democratic dispensation in South Africa. Indeed, it was Bundy and his colleagues who paved the way for Wits' drive towards greater inclusivity.
The ex-VCs reflected on two photos – one from 1949, the other from 2021. In 1949, a young Nelson Mandela, together with other luminaries stood in a graduation picture. Then, it was mostly white men who graduated. The VCs noted the marked change in 2021 – more black women are graduating than ever, which is a testament to the remarkable inclusivity strides that Wits has made.
"When we look at the pace of change in the number of black students enrolling in the university in the five years I was in office – it's really heartening," says Bundy. African student enrolment rose from 5500 – 9500 students during his time. "Wits outstripped all other historically white universities in South Africa in terms of improving racial and gender dynamics," he says. "My advice for the future of Wits is to continue to embrace the value of independent thought, the willingness to debate, to abide by your principled values and to think critically."
Notably, the VCs agreed that the greatest predictor of growth in a country is the number of women in school and higher education. Wits' current student profile is a hopeful reflection of progress in the country. This is only going to increase over the next 100 years.
Political Scientist Professor Adam Habib – with a mock 'Bloody Mary', from his home in London near the School of Oriental and Asian Studies which he heads
Habib, in his characteristic raspy, animated and forthright voice said that Wits hasn't been given nearly enough credit for the work that it has done in trying to tackle inequality in particular.
"Universities must enable inclusion, and be 'Afropolitan' hubs of knowledge and vigour," which Wits has done so well. There has been such a shift in the racial, gender and nationality profiles without compromising on the standard of education. We should be proud," notes Habib. He served as Wits' VC from 2013- 2020.
The VCs noted that many Wits graduates since 2001 were often the first in their families to receive a university degree.
Habib implored the government and those in power to see Wits as something to love. "Until this institution is loved, until this government says – Wits is the jewel in the African crown, the next 100 years could be that much harder to achieve local and global change."
He also elaborated on Wits University's research and innovation excellence, its social engagement, and advancement of the public good. "Wits led from the front during the COVID-19 pandemic – we conducted world-class research into vaccines and other health matters, we took the academic project online in three weeks and serviced communities like no other university on the continent – for this, Wits deserves a toast."
He elaborated on the opening of the Tshimologong Digital Innovation Precinct, one of his special spaces at Wits but added that Wits' footprint extends way beyond it academic and research activities. "Wits owns part of a World Heritage Site, a Rural Campus, a private teaching hospital that produces the most specialists in the country, two commercial companies, sports teams, a world-class art museum, and a Planetarium. Wits' doctors work throughout the public sector – Wits' reach and contribution to society is immense, and its impact is often unmeasurable."
He said that his vision for Wits was for it to form part of a formidable, international network, to ensure flexible staff-students exchanges, and collaborative research projects to address real world problems.
Mathematician Professor Loyiso Nongxa – with a hearty ceramic mug of Heineken beer, at his home
Nongxa, who presided in the VC's office for 10 years between 2003 and 2013, wasn't easily recognisable with his clean-shaven face, but his twinkly eyes and enthusiasm for Wits remain the same.
Nongxa is perhaps best known for the initiating the Targeting Talent programme, which brings talented learners, their parents and teachers together from grades 10 to 12, invites them onto campus, and prepares them to attend any university. "Even if someone is poor and their family born on the wrong side of history, their immense talent and hunger for success is no less than any other person's," he says. "It is incredibly profound when you reach out to those who did the programme and who are now chartered accountants and engineers. Moreover, these students have the lifelong gift of independent thought and the tools to debate and to speak truth to power".
He reflected on the hosting of a special General Assembly to honour those students who boycotted their graduation ceremonies during the apartheid era, sparked by the roll-out of the "A Wits to call your own" campaign. Nongxa also paid tribute to the late Professor Thamsanqa Kambule, a notable mathematics educator after whom a building in the Wits Science Stadium is named. This is also one of Nongxa's favourite spots on campus.
Physicist Professor Zeblon Vilakazi – with a hot cup of coffee in a Wits-branded mug, in his office with a rocket in the background
"This is our moonshot moment," says Zeblon Vilakazi, "and we invite you to walk this journey with us. Wits is a beacon of hope in society, and is a place to which others should aspire. Since its establishment, Wits has dramatically changed Johannesburg, and South Africa for good. Witsies can consider themselves lucky to have an extraordinary head start all over the world. But all members of society have undoubtedly benefitted from the work undertaken at Wits."
He adds: "Wits has inspired, changed, and left an indelible mark on society for the last 100 years. We have nurtured distinguished individuals who continuously punch above their weight in the world, and we continue to harness our intellectual resources for the betterment of society."
Wits is renowned for its academic and research excellence the world over, its commitment to social justice and the advancement of society.
Witsies are creative innovators, originators, critical thinkers, problem-posers and problem-solvers. They stand up and stand out, not for ourselves, but for others, for our collective futures. They are curious, they seek new knowledge, they ask questions, and they search for answers. Witsies stand up for social justice and the truth. They have a passion for progress, they empower others, and they change the world for the better.
Vilakazi envisages that Wits will be "front and centre" to address the complex, grand challenges of modern times, on a global scale, but from the perspective of the Global South.
Accountant Stanley Bergman, the Chairperson of the Wits Fund Inc. with a glass of South African red wine and his wife, Dr Marion Bergman with a cup of rooibos tea, both Wits alumni
The Bergmans attended a Wits graduation ceremony (Stanley was awarded an honorary doctorate) in 2016, and were amazed at the transformation of the student body and the vibrancy of the campus. "This is a real credit to the terrific work of the vice-chancellors and their leadership – they have expanded the student body, the academic body, without compromising on excellence. This is everything that you would expect of leadership - advancing the University without compromising on the quality of the academic standards of the university, with limited finding," says Stanley Bergman.
He called on graduates from around the world to support the Wits Centenary Campaign and to contribute to the university.
Dr Marion Bergman extended her well wishes to Wits, and its future. She is actively involved in a project that will see world-class dental facilities open in Soweto.
Wits is 100 years old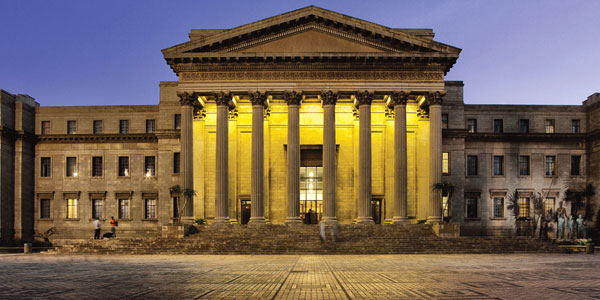 Wits celebrates 100 years of excellence in 2022.
The webinar was the first in a series of events to celebrate Wits University's 100th anniversary, culminating in the institution's official birthday on 4 October 2022. One of the highlights of the year will be the Homecoming Weekend from 2 to 4 September, during which the University will host a number of events to celebrate the occasion.
For more information on #Wits100, visit https://wits100.wits.ac.za/.