Top spots for Witsies
- Wits University
Wits student wins the country's premier budget speech competition.
Students from the School of Economics and Finance (SEF) at Wits University have once again proved their economic skills in the annual Nedbank/Old Mutual Budget Speech Competition.
The competition, now in its 50th year, requires students to write an essay on the economic issues concerning South Africa. The finalists then attended the Budget Speech delivered by Finance Minister Enoch Godongwana, who also responded to their questions.
In the undergraduate section, Rethabile Mphahlele from Wits took the top honours.
Dhyan Saravanja in the undergraduate section and Lebo Siboyi in the postgraduate section were both runners-up.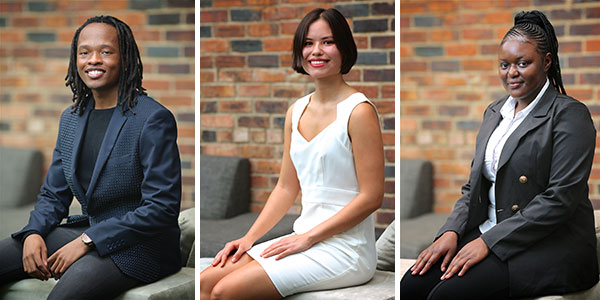 In congratulating the students, Professor Uma Kollamparambil, Head of School, says the School has always prided itself on "teaching students not just technical economics skills but important analytic and social skills that will enable them to play a meaningful role in shaping the economy of this country in the future.
"These outstanding results are testimony of how valuable the Wits education is. As we celebrate Wits' centenary year, we also recognise the high calibre of students our School of Economics and Finance continues to produce."
This year's students had the full support of the School's academics. Dr Lyndal Keeton and Nimisha Naik were the convenors. Dr Aylit Romm, Dr Gareth Roberts, Professor Gregory Farrell and Dr Kenneth Creamer helped to prepare the students for the competition. In addition, students are able to draw on the broader support services at Wits through the Road to Success Programme (RSP). In fact, Rethabile Mphahlele was an RSP Peer advisor in 2021.
The Budget Speech Competition has been running for 50 years and has unearthed some of the country's young talent and paved the way for lucrative networks and opportunities for budding economists.
The students who have participated over the years have gone on to influence policy processes, lead some of the largest organisations in the country and become changemakers across various sectors.