Wits researchers feature in popular children's science book
- Wits University
Book about South Africa's leading brains competes with Harry Potter in South African children's book sales.
Several Wits researchers have made the cut to be featured in one of the most exciting publications in 2021.
The book called Inventors, Bright Minds and Other Science Heroes of South Africa was published by Penguin publishers last year. It follows on the highly successful Afrikaans version of the book Uitvinders, Planmakers en ander Slimkoppe van Suid-Afrika.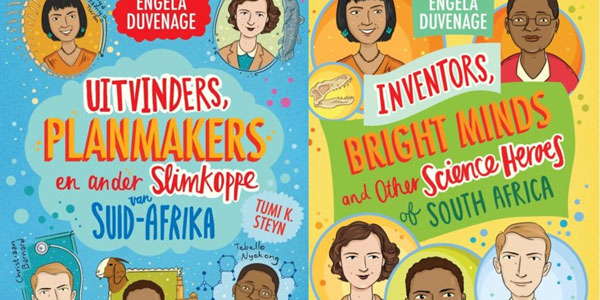 Written by veteran science journalist, Engela Duvenage, the book contains 102 stories about South Africans or people with South African links who are known for some kind of first in the sciences, healthcare, engineering, paleontology and other related fields.
A number of current and past Wits academics are among the fact-based narrative non-fiction stories, including paleontologists Professor Lee Berger, Professor Ronald Clark and James Kitching, mosquito expert Professor Maureen Coetzee, Professor Beric Skews, director of the Flow Research Unit at Wits and Basil Schonland, who was noted for his research on lightning and his involvement in the development of radar during World War II.
Among the alumni are eye doctor Percy Amoils, Professor Heather Zar, Professor Johnny Mahlangu, Nobel Prize winner Professor Sydney Brenner, paleontologist Professor Anusuya Chinsamy-Turan, the Square Kilometre Array's (SKA) Dr Bernie Fanaroff and Professor John Burland (who saved the Leaning Tower of Pisa) and Reel Gardening inventor Claire Reid.
"This is the English version but the first one was in Afrikaans, and that I really liked!" says Professor Andrew Forbes, laser and quantum physicist at the Structured Light Laboratory at Wits.
"I love giving public talks and explaining science to a wider audience. And in my experience the talks to children are always the most entertaining. They bubble with enthusiasm and ask great questions. So the chance to share something I did with such an audience, through this book, is an honour for me and a deeply rewarding task. Engela did a great job in taking a complex story and making it come alive in the book."
Early last year, the Afrikaans "Uitvinders" version of the book was for two weeks among the four top selling children's books in South Africa, according to the Nielsen BookScan list of bestseller – along with Harry Potter and Peppa Pig. It was the only South African book on the top five list.
The Afrikaans version is already set to be reprinted by April this year.
"The book is my way of celebrating the tremendous brain power of South Africans, and the work that so many engineers, medical professionals and researchers in various fields do to make the world a better place, often behind the scenes and without much fanfare," says Duvenhage.
The book is available at most South African book stores. For more information visit the book's page on the publisher's website. The Afrikaans version is available here.