Gateway to success for new first year students
- Wits University
Wits University introduces new programme to enhance the academic and social success of first year students.
As a result of the COVID-19 pandemic, students who will be starting university in 2022 experienced almost two years of disrupted schooling. The transition from school to university has always been challenging, but it will be especially tough for this group of students. Wits has committed to helping first years navigate this transition by designing a groundbreaking academic and student life orientation programme called Gateway to Success (GTS).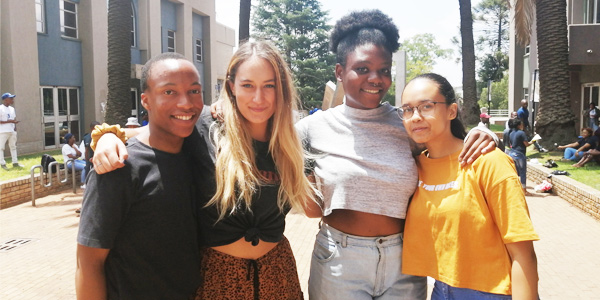 Gateway to Success is a compulsory, three-week programme led jointly by the Dean of Student Affairs, Jerome September, and the Senior Director: Academic Affairs, Professor Diane Grayson. It will run in a blended mode from 7 to 25 February, with some online and some on-campus activities. This holistic programme integrates academic content, academic support, health and wellness, student life and personal development components. The concept was approved in August 2021, and a project team of stakeholders from across the university has been working feverishly on the programme, managed by Wits Professor Liz Brenner.
In 2022 Wits plans to present the academic programme in a blended mode, which means that some activities will be offered online and some on-campus. Therefore, students need to use Wits' online Learning Management System, ulwazi, as well as be able to navigate the campus and know where to find support.
The heart of the academic part of Gateway to Success is an online, interdisciplinary Wits short course called Climate Change and Me. In the course, students will tackle this critically important topic while learning important academic skills at the same time. Furthermore, each student will take an online course that deals with key concepts related to their Faculty. Academic support will be offered both online and on-campus through activities and resources developed by their Faculty. Students will also take online courses on digital abilities and academic integrity.
The student life part of Gateway to Success comprises a wide variety of topics and activities, some on campus and some online. These include student wellness, holistic personal development and support, appreciation of diversity, culture, social responsibility, community-building, fun and recreation. It also includes mentoring by trained senior students. Each first-year student will be assigned to a mentor group, facilitated by a mentor from their Faculty. Mentors will guide and support students during Gateway to Success and for the whole of their first year.
Gateway to Success ends on 25 February with a football match between Wits University and Orlando Pirates; and welcoming of first year students as "Witsies for Life".
By the time classes begin on 28 February, first year students will have acquired academic and digital skills, learnt how to get support when they need it, made friends and familiarised themselves with the campus. Our new students will be on the road to success.