Diverse people unite exhibition hosted at Wits
- Wits University
Canon South Africa and RARI partner up to preserve our heritage through the camera lens.
The Rock Art Research Institute at Wits in partnership with Canon South Africa is hosting a unique exhibition at the Origins Centre at Wits that celebrates the national coat of arms and motto.
Entitled Diverse People Unite, the exhibition showcases the famous "Linton Panel", an archaeological masterpiece with some on the finest details ever to be found in rock art.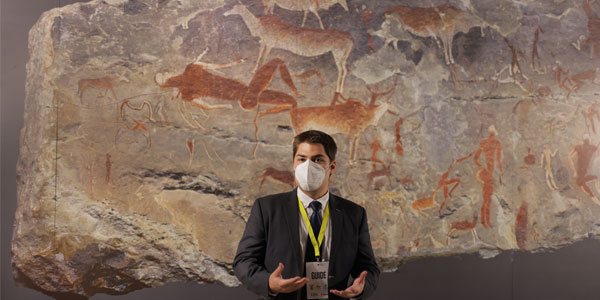 The panel, which is housed in Cape Town's Iziko Museum, tells its story of what our ancestors believed, in the rituals and visions of San shamans. The excavated rock details a number of images, one of which was incorporated into the South African national coat of arms, designed in 2000 after being commissioned by then SA President, Thabo Mbeki.
"Two decades on, we felt it was time to remind the world of the creation of the emblem, grounded in our rich heritage," says Sam Challis, director of Rari, who along with Canon SA's Roger Machin had the idea of showcasing Canon's capabilities with a larger than life-sized image of the incredible painted panel from which the national shield took its inspiration.
It also explains Wits' role in the creation of the national motto, written in the |xam San language: !ke e: |xarra ||ke, 'Diverse People Unite'.
The exhibition, which is on show until 16 December 2021, was made possible by the photographic craftmanship and visual storytelling of Cape Town born, Andy Lund.
Lund's passion for capturing the beautiful phenomena of life shows us how remarkable the Linton Panel is to South Africa's history and its people's heritage. Not only a gifted photographer, Lund's talents transcend a vast array of artistic fields, with him donning the hats of musician and creative director, among others.
Using a revolutionary gigapixel technique, over 450 images were captured at 50 million pixels each to enhance the finest of details of the image to be printed.
The incorporation of the figures in the national coat of arms emphasises the deeply ingrained roots of the country. Not only is the exhibition a celebration of rich artistic history, but it also commemorates another landmark milestone and institution of South Africa, the centenary of the University of the Witwatersrand.
"This exhibition could not be more important," says Challis. "As Justice Edwin Cameron, one of our RARI Patrons, remarked on the opening night, it is inspiring to see our nation's heritage at the centre of the coat of arms and to have it explained."
The Wits Rock Art Research Institute's part in its creation was significant, having been asked in 2000 to contribute an appropriate San image, and also to write the San language national motto, which translates as 'Diverse People Unite'.
"The exhibition is to celebrate the Wits Centenary, to showcase Canon's capabilities and to celebrate Canon's sponsorshiop of three new Transformation posts for the RARI digi-lab."