Campus vaccination site to fight Covid-19
- Wits University
Staff and students choose to protect each other as they receive their Covid-19 vaccination on campus.
Covid-19 has disrupted student activities and Wits' buzzing campus life. As vaccinations gather momentum across the country, Witsies are rolling up their sleeves in the quest to return to normalcy and revive the vibrant campus life.
Wits University, in partnership with Netcare, launched a vaccination site on campus today, 6 September 2021 in the Wits Sport Multipurpose Hall, Braamfontein Campus East.
The Netcare vaccination site is an initiative to make Covid-19 vaccinations easily accessible to members of the Wits community and their household members. It will operate weekdays between 08:00 and 16:00 until 23 September 2021.
The University has been at the forefront of the fight against Covid-19 through scientific research into vaccines and its involvement in vaccine trials, has now brought vaccines to staff, students and alumni.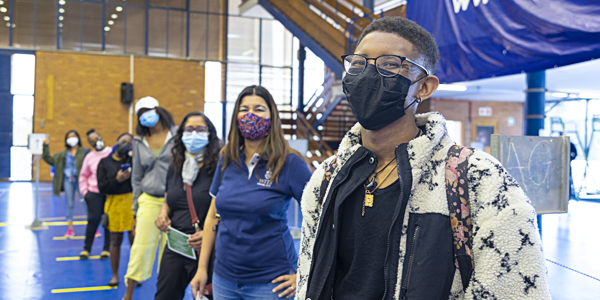 Vaccines reduce transmissions
Professor Shabir Madhi, Dean of the Faculty of Health Sciences and Professor of vaccinology said while vaccines may not completely protect people from being infected, they reduce transmission of the virus by 50% and reduce Covid-19 cases.
"The vaccine is the only sustainable manner in which we can go back to a normal lifestyle. It is to ensure that we can protect people, not only preventing people from being infected, but also protecting them from developing severe disease and dying of Covid-19. The only thing that is available to us to achieve that goal is vaccines despite what others may say on social media," said Madhi.
Vaccinating back to normalcy
Jerome September, Dean of Student Affairs called on the student community to vaccinate, stating that vaccination is a broader responsibility to society.
"While they may not be in the highest of the risk groups, it is protecting themselves that will ensure that the broader society is protected.. The sooner our community gets vaccinated, the sooner we can go back to normalcy."
The vaccination site on campus will make it easier for students to vaccinate in between their lectures, said September.
Students taking the lead with vaccination
Mpendulo Mfeka, President of the Wits Student Representative Council (SRC), led by example as one of the first few students to vaccinate today. He appealed to students to get their vaccination so they can enjoy the full student experience.
"This is about lives and livelihoods. Even the SRC could not have socials for first years this year. We could not attend classes. A lot of the academic programme has been disturbed by Covid-19. The campus experience has been taken away by Covid-19. We want to encourage students to get vaccinated," said Mfeka.
Mongezi Sibanda, a third year Bachelor of Science student was the first student to receive the Covid-19 vaccination. He vaccinated because he wants to see Covid-19 over, he said.
"I am tired. I would like to get Covid-19 behind us. We need to do this collectively and vaccinate," he said.
First year Bachelor of Commerce student, Dipuo Mabasa who was among the students who vaccinated said the site was convenient for her. Mabasa, who is in the University's netball team, said she took the jab so she can participate in the upcoming netball tournament.
Jacque Du Plessis, Managing Director of Netcare attested to the effectiveness of the vaccines adding that infection rates have decreased among Netcare healthcare workers who vaccinated.
"We need to make sure that we limit the transmission with all the different variants. Even if we can do 100 vaccinations a day, we are moving in the right direction towards normalcy."
The vaccination site accepts walk-in's in order to leave no one behind. People will be assisted with the registration process at the site.