Blended learning and the people bold enough to implement it
- Wits University
Notes from the School of Therapeutic Sciences' Learning I3 (Ideas, Innovation, Inspiration) symposium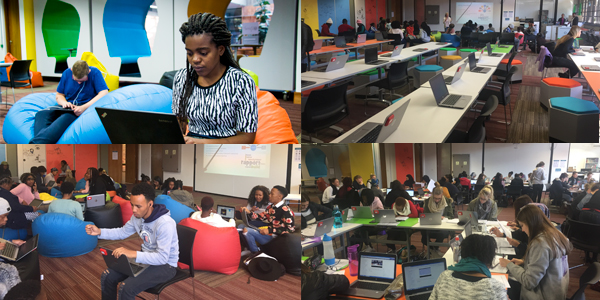 Long before the Covid-19 pandemic, Wits University grappled with the implications of non-contact and digitised teaching and learning. Each year, there are more undergraduates enrolling in courses, with pressure being placed on institutional time and space. While Wits Plus has catered to part-time students, its offerings have been limited.
The Covid-19 lockdown and subsequent restrictions of people on campus meant that the university had to rapidly adapt. In late 2020, Wits purchased a powerful learning management system, Canvas (branded as Ulwazi), which enables the institution to manage online learning opportunities, assess student performance, and allow for extensive student engagement.
Not only are there opportunities to consider hybrid and other forms of flexible learning, but a complete reimagining of higher education.
Professor Diane Grayson, Senior Director: Academic Affairs, says that the Teaching and Learning Plan is fundamentally underpinned by a change of thinking in what we need to do to make learning possible in the South African context.
New approaches to teaching and learning in South Africa
"Our students have a range of life circumstances and are not always the typical undergraduate student fresh out of high school with the ability and means to study full time. In fact, many are caregivers of children and the elderly and require the flexibility to finish their degree in the ways that are most suitable to them. This could mean on-campus learning for one teaching block, and online for the next. It could mean starting a course later in the year, and not within strict time frames," says Grayson.
These kinds of administrative constraints are not essential or useful in the 21st century teaching and learning environment. Blended learning is possible. Professor Ruksana Osman, Senior Deputy Vice-Chancellor: Academic, explains that the pandemic has disrupted and displaced current orthodoxies around teaching and learning, providing the opportunity to fundamentally reshape the relationship between teacher, student and content, and the academy and society more broadly. "The emergency response to the pandemic highlighted technology and digital inequality, but also presented opportunities to explore penetrable boundaries between contact, online and distance teaching and learning and the possibilities that this permeability allows," says Osman.
A student-centered approach is key
An ideal outcome would be for our newly imagined pedagogy to bring a diverse set of learning approaches to bear on transdisciplinary issues and ideas. Importantly, says Grayson, it must be student-centered, with people freely, creatively and meaningfully exchanging their views, integrating them, and being able to think innovatively for an evolving future.
Of course, this hinges on data availability and internet coverage, and suitable smart devices. Grayson explains that Wits is working on ensuring these are as accessible to students as possible, but that there are ways to enhance this. For example, informal learning spaces, such as public libraries, could become partners in delivering internet and other resources. "There is an extensive library network in South Africa, which also aids the face-to-face interaction that human beings crave and need," says Professor Grayson.
I to the power of 3 –blended learning in action
Blended and online learning has been a key strategic pillar in the School of Therapeutic Sciences even before the Covid-19 pandemic. The School, headed by Professor Hellen Myezwa, believes that active learning is more meaningful for students and lecturers, and can be accomplished in a blended learning environment. As such, Dr Paula Barnard-Ashton, the head of the School's eFundanathi (Learn with Us) unit, ensured that students and lecturers had significant experience with online teaching for the decade prior to March 2020.
"We wanted to see how students and lecturers experienced their emergency remote learning and teaching engagements and environments since the start of the Covid-19 pandemic, and so decided to undertake a participatory action research study that was presented at the Schools' Learning I3 symposium on 5 August 2021," adds Barnard-Ashton.
The first cycle results of this study were presented at the symposium, and students and lecturers were given the opportunity to spend time in breakaway sessions to imagine and conceptualise blended learning possibilities within the School.
The global context
"Our symposium was an opportunity for stakeholders to be enriched by new teaching and learning ideas," said Barnard-Ashton. The panel discussions also positioned the School in the global context and what it means to live in a highly unequal society where data access is uneven.
She notes that participants revelled in the discussions, and the symposium tried to stay clear of the typical dry research presentations. In addition, stakeholders grappled with what to do with the unused spaces in the university when experiential and face-to-face teaching is necessary. "How do we learn in meaningful ways?" asks Barnard-Ashton.
Students and lecturers presented their ideas on active learning, with a competition being held.
Gamification of learning and more
Some of the winning ideas include Lab Jenga, which is the gamification of prelab safety session drills; Flipgrid videos to simulate occupational therapy exercises for children and which caregivers could do in the absence of face-to-face therapy sessions; Photovoice as a method to document a field trip experience allowing a student would show a virtual gallery to their peers. A student proposed an app that used minimal data but that gamified learning of more difficult content by having timed quizzes that challenged peers to places on a leaderboard.
"The feedback from symposium participants was really encouraging and hopeful, and may inspire the broader Wits community," notes Barnard-Ashton.
*The Wits Learning and Teaching Plan 2020-2024 has seven focus areas, which have been chosen in order to promote Wits' alignment with current global trends in higher education while responding proactively to the imperatives of the South African higher education context.