Teaching and learning beyond the pandemic
- Wits University
Wits Vice-Chancellor and Principal speaks at an international plenary session on the impact of the pandemic on public higher education.
The Covid-19 pandemic has affected institutions of higher learning across the globe. Despite the disruption, it provided an opportunity for many institutions of higher learning to adapt rapidly to hybrid learning. It was the catalyst to revolutionise teaching and learning with calls for investment in digital technologies to enable and enhance online learning.
For many public universities worldwide that needed to adjust to online learning, Covid-19 necessitated rethinking teaching and learning, and the need to reimagine social and academic activities after the pandemic.
At a plenary session held on 29 July 2021, which was part of the 2021 International Association of University Presidents (IAUP) Conference, higher education leaders addressed the question of what universities should look like in a post-pandemic world.
The plenary discussion, titled, Innovation and Inclusion: Key Priorities for Higher Education in a Post Pandemic World, included Professors Zeblon Vilakazi, Wits Vice-Chancellor and Principal; Mildred Garcia, President, American Association of States Colleges and Universities; Melchor Sánchez-Mendiola, National Autonomous University of Mexico (UNAM); Vahan Agopyan, President, Universidad de Sao Paulo; Zeblon Vilakazi,; and Jiang Hongxin, Chairman, University Council, Hunan Normal University.
Professor Thandwa Mthembu, Vice-Chancellor and Principal of Durban University of Technology moderated the session. Panellists suggested that public universities should move towards hybrid learning and integrate various teaching modes post the pandemic and think strategically about teaching and learning activities.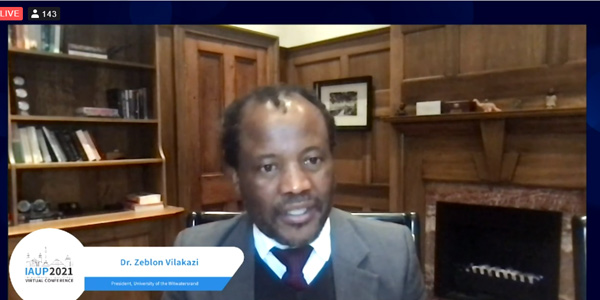 Although universities transitioned to online learning to ensure completion of their academic calendars, the switch was not as easy for some students for whom the pandemic aggravated socio-economic inequities.
Speaking at the plenary, Wits Vice-Chancellor and Principal, Professor Vilakazi gave a South African perspective of the impacts of the pandemic on public universities, highlighting the challenges at Wits.
He noted that most of these challenges were rooted in the historical inequalities of South Africa. The effects of apartheid are still visible today and these manifests in how we respond to the pandemic, said Vilakazi. He added that at Wits, they had to consider these inequalities and socioeconomic status of their diverse students.
"When Covid-19 hit last year, some students were able to pivot quickly to online learning because they had access to WiFi and are part of the connected global north citizens. We had students from townships and informal settlements, for whom data was a challenge," he said.
Given these inequalities, Vilakazi said the university management had to dispatch laptops and data to ensure students who did not have sufficient resources could also learn online and return students who did not have an environment conducive to online learning at home back to their residences (with one student per room).
Vilakazi stressed that post Covid-19, it will be essential for universities to increase access and create a culture of sustainability.
"While students have adjusted to the new norm and online learning, we need to try to keep some of the traditional modalities that have been at the heart of the academic project," he said.
"Covid -19 has given us the opportunity to harness the digital transformation that will put us at the cutting-edge of excellence in teaching and learning, and sustainability. However, we need to think hard as policy makers and as administrators of institutions on how we can overcome the digital divide within societies and across the world."
In a quest to enhance online learning, Wits introduced a new powerful online learning management system this year, ulwazi to meet the demands of online learning and teaching activities and to accommodate multiple users simultaneously. Ulwazi accelerated the University's blended learning, which forms part of the 2020-2024 Teaching and Learning Plan.