Learnership empowers Soweto youth
- Wits University
Gauteng has one of the highest number of young people who are not in employment, education or training.
In 2020, amidst the pandemic and nationally increasing job insecurity, very few youth expected any opportunities to come their way, especially those who had not been economically active prior to this.
There are an estimated 17 million young people nationwide who are not in employment, education or training, a group officially known as NEETs.
The highest number of NEETs are in the provinces of Gauteng, KwaZulu-Natal and Eastern Cape, according to a recent report by the Department of Higher Education and Training.
In comes the Wits Health Hubb (WHH) which empowers youth (NEETs) in Soweto into active citizens who can then make meaningful personal progress and in their community. The WHH launched a learnership programme in October 2020 to address some of the social and health issues in the area.
A Wits study found that youth are unable to make choices that would improve their health outcomes. Key among these findings is that young people lack knowledge about healthy lifestyles; the cost of eating healthily is a barrier due to poverty; and/or unsafe surroundings make it impossible to engage in fitness activities.
The WHH's learnership commenced with 20 youths who are undergoing training as Health Advocates.
The cohort will complete an NQF Level-3 Health Promotion Officer qualification on 31 September 2021.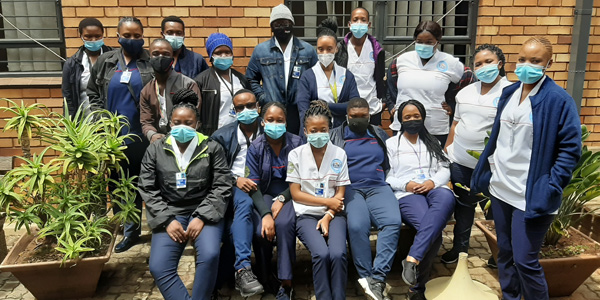 During training learners have simultaneously worked as health advocates in their community and conducted home visits to educate individuals and families about various health issues including obesity, diabetes, and high blood pressure. Areas serviced include Snake Park, Diepkloof, Pimville, Dobsonville, Orlando East, Orlando West, Meadowlands and Zola. Once qualified, the trainees will be known as Health Promotions Officers– qualifying them to take positions within the public healthcare sector. The acquired skills are also used in research companies and many other fields.
Good health is an important determinant of several positive outcomes. However, without financial resources, youngsters are unable to make purchasing decisions that improve their health. To address this, the learners receive a stipend to enable independence and flexibility.
"We at the WHH believe that young people are important influencers for their peers and communities, for health awareness and positive health behaviours," says Lethu Kapueja, Director of Strategic Partnerships at the WHH.
For learner Bonolo Moshoadiba, 27, the programme has been a journey of self-discovery and unearthed a love for nursing, something that was not in her plans before. She has applied at the Bara Hospital nursing academy and hopes that her involvement in the training will put her in good stead in the competition for limited spaces.
The Development Bank of South Africa funds the learnership programme, which evolved from research that Wits conducted in Soweto , was conceptualised by WHH Founders Dr Lisa Ware, Dr Delan Naidoo and Mr Lethu Kapueja, Wits researchers, with support from their training partner, KunokhanyaTraining Academy.
The WHH is deepening its work with communities and is now also accessible at the DLabs, a multipurpose precinct in Jabulani, Soweto