Wits' young movers and shakers
- Wits University
Several staff, students and alumni are featured in the 2021 Mail and Guardian Top 200 list of trailblazing young South Africans.
The annual supplement recognises notable young people under the age of 35 making a positive impact in society. The Top 200 List is in its 15th year of showcasing South Africa's outstanding and accomplished young people in various fields including Education, Entertainment, Film and Media, Business and Entrepreneurship, Justice and Law, Health, Mining and Manufacturing, Science and Technology, Tourism and Hospitality, Rural Development Projects, Civil Society, and Politics and Government. This year, the list features a special category, Covid-19 frontliners.
Every year, several Witsies are recognised for their extraordinary work in their fields. Over 40 eminent Witsies are featured this year in the 2021 list announced at a virtual event on 24 June 2021.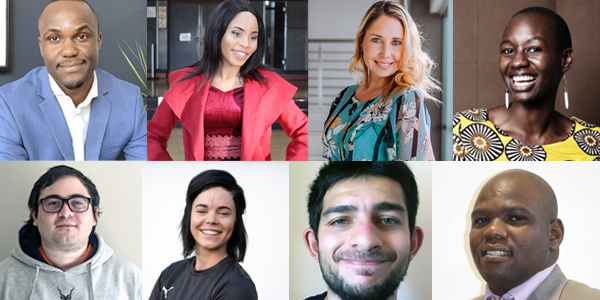 Business and Entrepreneurship
Francis Macmahon is Chief Executive of Meraki Research, a market research and consulting agency. Through her company's corporate social responsibility and partnerships with non-governmental organisations, MacMahon hopes to empower the youth through education and do her part to reduce the staggering youth unemployment rate in South Africa. She obtained her architecture degree from Wits.
Amogelang Kgaledi holds a Masters of Business Administration (MBA) from Wits University. He is Chief Risk Officer at First National Bank (FNB). An actuary by training, and fellow of the Actuarial Society of South Africa, Kgaledi was headhunted by FNB to set up the corporate actuarial function at the division he now leads. In his current role, he is responsible for identifying, monitoring and mitigating the business' risk, and ensuring risk-adjusted optimisation.
Adam Collier, completed a commerce honours degree from Wits University. He is co-founder and co-chief executive of BluLever Education, an educational enterprise that focuses on the fostering and development of artisanal trade skills. Collier is determined for trades to be viewed as promising career choices for young people, and looks to provide a platform to equip them with the tools to make that possible.
Zoe Mahopo is Head of Content Development at The Brand Thread, which she started before the lockdown last year. She holds a Bachelors of Arts degree from Wits. A former journalist, Mahopo was awarded the Standard Bank Sikuvile Journalism Award in 2016 for a feature that exposed the poor condition of school toilets in Gauteng township schools.
Nicho Gosebo is Head of Customer Product Management at Giesecke & Devrient Mobile Security. He is a MBA candidate at Wits and holds a Postgraduate Diploma in Business Administration from Wits. Gosebo resides in Heidelberg, Germany, where he manages the technical side of his employer's telecommunications offerings. He serves on the advisory board of the Agang Africa Network, a non-profit organisation that aims to empower women on the continent through e-commerce.
Masonwabe Fuma is an Associate Director and Spokesperson at the Africa Cooperatives Institute of South Africa, an organisation that focuses on empowerment, and on providing training to develop community-based enterprises and non-profit companies that are sustainable and resilient. Fuma is currently studying towards a Postgraduate Diploma in Business Administration at the Wits Business School.
Education
Boitumelo Ramatsetse is a Lecturer and researcher in the Department of Educational Technology and Engineering in the Wits School of Education. Ramatsetse's proudest moment was when he designed and developed a reconfigurable vibrating screen (RVS) – an innovative machine designed to screen mineral particles of varying sizes and volumes. It is a first-of-its-kind solution and is locally manufactured in South Africa. Through his upcoming work, he wants to build on the success and fulfillment he has already experienced as a lecturer.
Aldridge Munyoro is a PhD candidate and social worker. Munyuro, who completed his masters at Wits, is fellow at the non-profit Tekano, working in the field of health equity. Among other projects, he is involved in the CanBe campaign which helps learners with albinism succeed at school.
Zanele Suzan Maduna is founder and Chief Executive at No Valo Holdings, an organisation that provides coaching support, mentorship programmes and e-learning services to university students and young professionals to help them through their career journey. Maduna, a Bachelor of Accounting Science and Higher Diploma in Accounting, is also a Senior Fund Accountant at BNP Paribas.
Grace Sibanda is founder of Window of Heaven Foundation, a non-profit organisation that seeks to empower the more vulnerable children in our communities through education, entrepreneurship and skills development. Sibanda, who pursued a Bachelor of Laws degree at Wits, centres her life on peace, purpose and unconditional love for others.
Entertainment, Film and Media
Nicole Davy is a singer, songwriter and activist. Davy has worked with collaborators who share her values and spread her brand across South Africa. She recently collaborated with Cassper Nyovest and YoungstaCPT. Davy holds a bachelor of arts degree from Wits University.
Kathrine Couzyn is head of digital at Havas Media. She holds a bachelor of arts degree from Wits University. After her first attempt to obtain an undergraduate degree, she tried again at age 26. Today she has made up for the lost time in her career and has active campaigns in South Africa, Kenya, Uganda, Ghana and Tanzania.
Brenwin Naidu is a Wits alumnus and motoring editor at Arena Holdings. In 2020, Naidu was the youngest of four South African journalists serving on the World Car Awards jury. He is recipient of the 2017 Bridgestone Steve Dlamini award for excellence in motoring journalism.
Jean Varty, is an Animation Trainer at the Wits Tshimologong Digital Innovation Precinct where she helps to develop animators, upskilling and getting them ready for the marketplace. Her responsibilities include teaching 2D animation fundamentals, visual development and self-management to ensure best professional practice.
Karabo Legoabe Mtshali is Operations Manager and Producer for the University of Johannesburg (UJ) arts and culture department. She holds a Bachelor's of Arts degree from Wits University. At UJ, role involves producing the entire artistic programme including Building Blocks, a programme designed to bolster the capacity and sustainability of the country's arts industry. She is produced the award-winning play, Metamorphosis which won nine Naledi Awards.
Katleho Sekhoto is a reporter at Kaya FM. She covers a broad range of subjects for radio station Kaya FM 95.9, spanning news, politics, education, crime, health and the arts. Sekhoto who holds a Bachelor of Arts honours qualification from Wits, anchors the news sometimes and works with the digital department to capture videos to tell stories online.
Kehla Makgato is an independent visual artist and freelance writer. A historical awareness of the resilient leadership of black women, and the century-spanning erasure of their tales, is woven into the tapestry of his oeuvre. Makgato looks to foster the talents of others who may be so inclined, offering workshops on the basic elements of visual arts to young people in his respective locales.
Justice and Law
Joel Block is an International Military Law Researcher at Wits where he researches the intersections between the military and international legal frameworks. For his work, he has been awarded military conference certificates from the South African National Defence Force, the France Association of Aeronautics and Astronautics, the Israel Missile Defence Association and the International Committee of the Red Cross. His current work, as a jurisprudence researcher at Wits, focuses on the theoretical implications of waging war in space through the Star Wars franchise.
Joselynn Fember is Managing Partner at Fember Attorneys Incorporated. She started her own firmaged 25. She holds a LLB degree from Wits. Through her work, she hopes to inspire people to persevere, to overcome self-doubt and to see themselves as capable and deserving.
Nasreen Jajbhay is a LLB graduate from Wits. She is a labour lawyer and part-time commissioner and panellist at the Bargaining Council. Finding herself underemployed and her abilities and knowledge underutilised, she opened her sole practice Jajbhay Attorneys, which provides holistic employment law services.
Dhahini Naidu is an Attorney and Director at Fairbridges Wertheim Becker Attorneys. She was promoted to director last year when she managed to keep the operation afloat after her former boss fell ill during the lockdown. er precocious talent and ability to withstand the pressure of the transition flowed naturally. Naidu holds two qualifications from Wits University.
Cherese Thakur is reading for her PhD and is the Advocacy Coordinator at amaBhungane Centre for Investigative Journalism. Thakur has dedicated her professional life to ensuring that investigative journalists have access to information and are afforded the professional freedoms required to fulfil their constitutionally protected role in our democracy.
Nelisile Thanjekwayo is Global Commercial Legal Counsel for Shell Downstream South Africa. She completed a LLB and LLM from Wits. Outside of her work with Shell, Thanjekwayo is the deputy chairperson of South Africa Day, a non-profit organisation that goes into marginalised communities and enacts programmes intended to provide social, financial and organisational support.
Mahashane Myakayaka is Senior Legal Counsel at Sandvik, and a law and MBA graduate from Wits. Myakayaka is also the co-founder and strategic lead of legal tech start-up Basics Legal, which serves small and medium-sized businesses, as well as start-ups.
Melody Musoni is a Legal Consultant at Phukubje Pierce Masithela Attorneys. Her area of focus is the intersection between technological advancement and the law. Musoni is a Wits graduate with three qualifications from the institution. Through her work, Musoni hopes to see internet access become a basic human right.
Lerato Thahane is a lawyer and partner at Bowmans South Africa. Thahane was on secondment to Freshfields Bruckhaus Deringer, a law firm in Munich where she was the lead associate on one of Europe's biggest merger and acquisition deals. A Bachelor of Arts graduate, she is founder of the student alumni network board of the Student Sponsorship Programme, a private scholarship fund that helps gifted young South Africans access the best schools in the country.
Health
Lucy Khofi is a master's candidate at Wits and a women's health activist. Khofi, who was the SRC Gender and Transformation Officer for the term 2019/2020 is founder of #RealTalkWithLucyKhofi, a non-profit organisation, dedicated to menstrual education and the distribution of sanitary products to disadvantaged schools. In 2020 Khofi founded Adopt a Student During the Pandemic, an initiative that provided academic and general support to more than 300 university-goers left stricken due to the effects of Covid-19. For this, she was also nominated as a Wits Covid-19 Hero.
Muhammed Valley is a Clinical Pharmacy Lecturer. Valley is one of the brains behind the Screening Testing Programme for pharmacy students where third year students can practice their skills on staff and students. The programme offers free health assessments, which includes screening for blood pressure, blood sugar and cholesterol levels, and offers diabetes and HIV tests.
Alexander Abedian-Rawhan, popularly known as Dr Smile, obtained his master's in science of dentistry at Wits. He runs the Project Smile Foundation, which offers free dental healthcare to those who need it most. Dr Smile is also a lecturer and entrepreneur, making custom jewellery and music (as "LEXLEO") in addition to brightening up his patients' smiles on a daily basis.
Dina Ruth Lulua is Head of the graduate entry medical programme at the Wits Medical School. She was involved in the education and graduation of more than 300 new medical students in the past year. Her biggest goal is to create a holistic environment for black African students where they can create a sense of belonging and ownership within the medical fraternity.
Brandon Ferlito is a Bioethicist at the South African Medical Association and a PhD candidate at Wits. His tumultuous childhood as an openly gay youngster in Westbury — an area in Johannesburg that is better known for gang violence and substance abuse than its championing of LGBTIQ+ rights — attests to his gravity-defying upward mobility. He advises healthcare workers to conduct themselves in a morally and ethically sound manner.
Amanda Chandler Brewer is a Health Systems Strengthening and Policy Specialist at Guidehouse International. Brewer holds a Master's of Science qualification from Wits. As part of her role, she spends time improving South Africa's health sector, making quality, affordable medicines more accessible.
Mining and Manufacturing
Martin Sitefane works as Pyrometallurgist at Mintek. He recently completed his master's at Wits. He frames the desire to create more efficient systems in the broader context of job creation and the development of a competitive local industry.
Hugh Maleka is a Mining Engineer at De Beers Group and holds an engineering degree from Wits. Together with his colleagues, he established the Kukanang Career Expo in 2011 to ignite hope in their communities through education. This initiative targets secondary schools in rural Limpopo with limited access to information and resources, and offers career guidance, coaching, mentoring and tutoring at no cost.
Rural Development Projects
Clive Mathe is an MBA candidate at Wits. Mathe is the founding Chief Executive of KURAI, a company that uses drone technology and artificial intelligence to help farmers. KURAI offers timely and reliable information to farmers to help them make accurate decisions, yield better crop and increase farm productivity.
Sport
Jolandi Jacobs is an Associate Lecturer and Researcher at Wits University, where she completed her masters degree. Jacobs established a rehabilitation centre, Sports Bodies, where she also works as a sports physiotherapist. In 2019, the sports bunny began Running Raspberries, a women's running community, which encourages women in communities to run together.
Science and Technology
Ritesh Ajoodha is Senior Lecturer in the School of Computer Science and Applied Mathematics at Wits. Ajoodha is holds five qualifications from Wits including a PhD obtained last year. Ajoodha has published 42 peer-reviewed articles and leads the Probabilistic Graphical Models Laboratory. He combines his passion for pedagogy with his interests in music, mentorship and academic citizenship.
Kelita Shadrach is a Wits alumna and PhD candidate at Wits. Her research investigates the cultural changes and behavioural adaptations of past human species.
Keabetswe Lerato Mpye is a Scientist at Mintek. Mpye completed her masters and PhD at Wits. She mentors university students in her field and looks to nurture their holistic development. She is currently involved in a project to develop test kits for rapid mycobacterium tuberculosis diagnosis.
Lindokuhle Nkambule is an Associate Computational Biologist at the Broad Institute of MIT and Harvard. He completed his Bachelor of Science degree at Wits University. Nkambule is also founder of Get Sum1 Out, a non-profit organisation that assists disadvantaged children with their academic performance.
Keabetswe Lerato Mpye is a Scientist at Mintek. Mpye completed her masters and PhD at Wits. She mentors university students in her field and looks to nurture their holistic development. She is currently involved in a project to develop test kits for rapid mycobacterium tuberculosis diagnosis.
Environment
Angelo Louw is Digital Mobilisation Officer and Pan-African Plastic Project Lead at Greenpeace Africa. A Wits alumnus, Louw has used his media training and journalism background to bring awareness to environmental, social and economic issues. His short film highlighting the economic exclusion of Kalk Bay fishermen uses storytelling to create a space for awareness and education.
Covid-19 Frontliners
Jonathan Moustakis is a Medical Doctor in the Johannesburg District Health, Gauteng Department of Health. He obtained his medicine degree from Wits. Moustakis established the Covid-19 Task Team at the Lenasia Community Health Centre when Covid-19 policies had to be urgently implemented after the first reported case in South Africa. He created procedures including guidelines for patient flow, screening, triage and case management, adapting them as new evidence emerged. He now also oversees its Covid-19 vaccination services.