What Witsies think about Wits. For Good.
- Wits University
The University's new slogan, Wits. For Good. has been a source of intrigue for many since being seen on billboards around the streets of Johannesburg.
Also attracting attention are the colourful murals gracing the University's entrances and buildings bearing the new slogan. We asked Witsies what they think of this slogan and their responses ranged from humorous while others were full of hope.
Students did not miss the chance to see as a message of doom about ever graduating. However, when it got serious this is what Wits. For Good represents for students.
Demi Chait, a Bachelor of Arts graduate believes it represents the good in the University. "Wits. For Good is about the incredible unity of people from different walks of life, different races and religions who come together, with no judgement, for one outcome – to attain the education from this great institution, then to go out into the world and change it for the better."
For Trevor Ngobeni, a third year pharmacy student, Wits. For Good speaks about the innovation and research one is exposed to at Wits and propels students to be a vessel for change in society.
Initial conversation with staff revealed that some believed the slogan is mainly related to students and the University's excellence in academia.
However, Wits Marketing Manager Ferna Clarkson says the new slogan is about our collective past and future as the University celebrates its first 100 years.
"Wits. For Good is about all that has been achieved through Witsies in a way that impacts positively on society. Staff, students, alumni and friends of the University are the engine of the University and each one contributes to the good work of the University. Ultimately, it should inspire us to leave things better than we found them."
It also celebrates the lifelong friendships forged within our community and reinforces the popular Wits phrase – Once a Witsies always a Witsie.
Staff were asked to share their views.
Wendy Holmes: Operations Management Administrator, Property and Infrastructure Management Development
Your take on the slogan?
I first encountered the slogan on702 through the Wits Impact for Good features on the radio. It feels good to be part of a place that has purpose.
How do you do good for Wits?
I work as best as I can to make sure that those who rely on me get the required support. As part of a big team, which looks after the infrastructure of the University, my goal is to make things easy for the team.
Hassan Shirinda: Security Officer, Campus Protection Services
How do you understand the Wits. For Good slogan?
To me it says that we are part of a great university and we must also do justice to the University as employees. As a Security Officer, I regard myself as the face of Wits. My attitude towards all those I work with must also signal that they are coming into a great institution.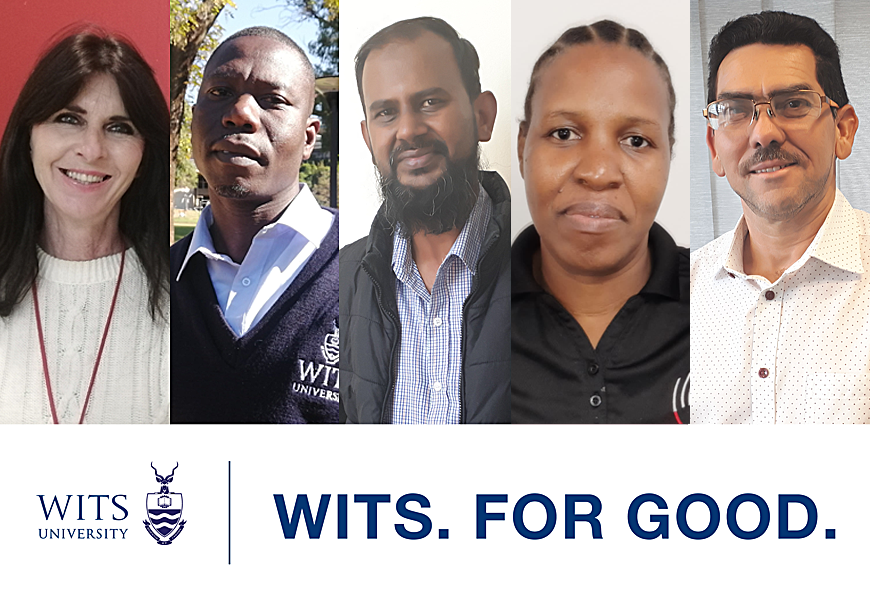 Shayla Pillay: Academic Support Officer, Department of Family Medicine
How do you understand the Wits. For Good slogan?
I saw a billboard with the slogan and I was like "ahh this is nice." I understood it as Wits being a dynamic university that does not stick to the old ideals of only doing things in a set way. I think this is why I resonate with the slogan Wits. For Good because it is not only sticking to doing things in one way. It shows that we actually adapt to the changes in society and we will move for good in society – whether it is for the good of our education, the good of how we better ourselves as humans. This is what Wits. For Good means for me.
How do you do good for Wits?
As staff members, we have the responsibility of shaping the minds of the students who are going through the system. The slogan, Wits. For Good is also to shape their minds so they can be the best that they can be. What we have in the medical programme is the bio-psycho approach, which does not only focus on the biological approach but the psychological approach, the social approach and the ethical and legal approach. It is a holistic view. We teach our students to be holistic individuals. So with the new slogan, it is teaching them to be people that can resonate with all aspects.
Tabrez Jooman: Finance Manager, Campus Housing and Residence Life
How do you understand the Wits. For Good slogan?
For me I look at it in two ways. One from a student perspective, in that once I qualify from Wits, I am a Witsie for life. It means our university is the best in the country. From a staff perspective, we are brand ambassadors in that whatever we do, we do it as best as possible. For the 20 years I have spent here, Wits has been my life. Wits. For Good to me says, we do best as possible in our environments.
How do you do good for Wits?
As a Financial Manager, it is always about the rands and cents. We work for an institution where funding is an issue. It is a sector wide problem actually. We try as best as we can to stretch the rand. For me, it is looking at how best we use those resources to provide a service to the students. As a Financial Manager, it is about finding mechanisms to use financial resources effectively and efficiently.
Percy Nkomo: Home Interventionist, Centre for Deaf Studies
How do you understand the Wits. For Good slogan?
For me, it keeps reminding me of the impact and change that one can do in society.
How do you do good for Wits?
I do good in general. When you live with people, you need to do good, be a nice person and be kind to the next person. Within my work, I always try to do good through the families we support and teaching them to be the best advocates for their children. It does not stop with families because once we teach them how to support their children with hearing loss], then they can teach the next person so that those disadvantaged families get an edge and get an advantage in society. It is a ripple effect.
Charles Gilbert: Human Resources Manager, Faculty of Health Sciences
How do you understand the Wits .For Good Slogan?
There are two things that come to mind when I think about the new slogan. Firstly, Wits tries to do good for people who are employed and for its students, by providing an appropriate work environment, quality education and contribute to meaningful lives. It also means that Wits is going to be here for a long time. I think that is why we need to be mindful of our limited resources and utilise our resources in a way that it can benefit future generations. I am a Witsie and I completed my masters at the Wits Business School. I feel proud to say I am a Witsie for life.
How do you do good for Wits?
For example, every now and again I put a call out to our staff members, asking if they can make donations and we put together a food parcel for financially challenged students. We do that on a regular basis and give the parcels to the Student Support Office in the Faculty of Healthy Sciences. I do random calls to people asking them to support such initiatives.
As an HR Manager, it is also treating people with respect and seeing them as humans first. If we want to embrace the Wits. For Good slogan, we need to act professionally, whether it is the Dean, cleaner, manager or messenger. We need to practice what we preach and for me that means acting professionally and treating people with respect.