VOW FM's radio queen to shine at YFM
- Wits University
Voice of Wits (VOW) FM's drive time host and personality Kgosigadi is set to bring heat this winter to the YFM radio airwaves.
Kgosigadi (Setswana for queen) will represent VOW FM at the YFM Smirnoff #BeTheNext competition, which is a fresh and spontaneous way of giving talented campus radio jocks an opportunity to work at a commercial radio.
The qualified sound engineer and broadcaster, whose real name is Boipelo Hlapane is presenter of the drive time show on VOW FM. Kgosigadi will co-host with YFM's Lula Odiba on the Nightcap show to stand a chance to win a three-month on-air contract with YFM. Odiba, a VOW FM alumni, was spotted and snatched by the leading youth station back in 2018.
Kgosigadi joined the award winning radio station in 2018 where she ignited her love for the microphone. This was after being unsuccessful at her first audition to join VOW. However, the rejection did not deter her but was an opportunity for her to hone her microphone skills.
"If I had an opportunity to do it all over again, I would have auditioned 10 times just to receive what I want and to be where I am today. If I had chosen anything else to do as a career I would probably be far but I don't think that I would be as happy as I am now," she says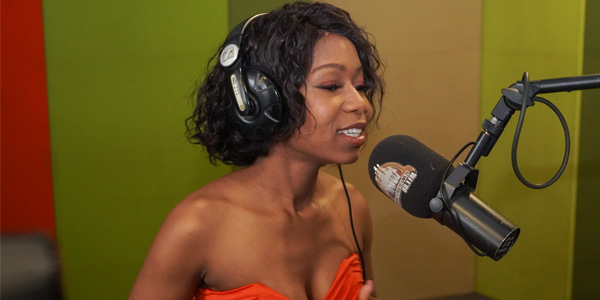 Kgosigadi says growing up she was talkative and inquisitive, and her curiosity sparked her passion in broadcasting and engaging. "I love making people feel good about themselves, I love it when people fully express who they are, cry, talk, laugh, heal when they are around me." She is excited to participate in the competition and broadcast her talent at the youth station, YFM.
"I am honoured to step up and represent my station VOW FM to the whole of Gauteng. When I studied radio, I realised the endless opportunities YFM continued to give its broadcasters. It has housed some of the greatest broadcasters. I am ready to elevate and influence the world and there is no better place to do it, than GP's hottest frequency.
Shoeshoe Qhu, VOW FM Station Manager says the radio station has been a pipeline for grooming talent and produced many shining radio stars across the country.
"Being at VOW FM, which is home soil to many great broadcasters that are across the broad Mzansi radio spectrum means that she has worked really well in understanding many of the elements that incorporate broadcasting, such as content production, understanding the monetisation of the business and the aspect of the role played by advertising on radio," says Qhu.
The competition will be based on a voting system where listeners can vote for their favourite campus radio hosts. The aspiring radio star takes to air on YFM on 31 May to 2 June 2021 from 21:00 to 22:00. Listeners can vote for Kgosigadi on the #BeTheNext website from Monday to Friday to help her become the next biggest radio host. Voting lines open on Monday, 31 May 2021. One vote is granted for each day of the broadcast. All voting and competition terms and conditions are available on the #BeTheNext website. To vote for Kgosigadi visit her profile, scroll down and click on the green thumbs up icon.