Visionary Leadership Award for Wits ICT
- Wits University
Dr Stanley Mgobansimbi Mpofu, Wits' Chief Information Officer (CIO), has received the Visionary CIO 2020 award from industry.
The IITPSA President's Awards, which took place virtually on Thursday, 15 April 2021, are hosted annually by the Institute of Information Technology Professionals South Africa (IITPSA) and seek to highlight the talent and commitment of individuals within the information and communications technology (ICT) industry.
Mpofu was the joint winner with Nomthi Nelwamondo, CIO of Assupol.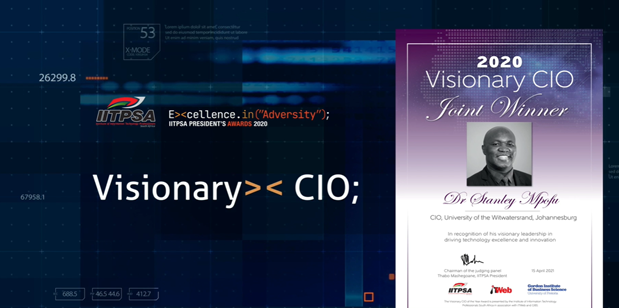 ICT is the backbone of businesses and requires adept and resilient leaders who can steer teams to thrive in unpredictable circumstances.
It was Mpofu's vision of transforming Wits' ICT and his driving the adoption of the "smart classroom" that gave Wits an advantage in its response to Covid-19. Wits was able to move to digital learning and teaching in less than a month after the outbreak, thereby avoiding major disruptions to the academic project.
Under Mpofu's leadership, Wits ICT has enabled a sustained effort to execute all ICT business strategies namely, Business, Digital, Cyber, Cloud and Mobile, to meet Wits' objectives.
Mpofu's success is attributable in part to support from SET and his collegial relationship with all stakeholders.
Mpofu's understanding and contributions of ICT in the higher education sector led to his election as Chair of the Board of Directors for the Association of South African University Directors of Information Technology (ASAUDIT). He is also a member of the Ministerial Task Team appointed in 2020.
Mpofu said he was very humbled by the nomination and elated to win.
"The award to me represents the effort of many stakeholders in Wits and in particular ICT employees. I say this because to prepare Wits for online learning, teaching and research in such a short period required support from all involved. To create a conducive environment that allows the University to function despite the level five lockdown meant navigating Wits, mobile network operators, and external terrains, and assuring University leadership and students that all was well. The unwavering support from SET and the student community was instrumental to our success."
Mpofu also thanked his family, adding that he is a product of his late father who "never went to school but gave me the inspiration to work hard to where I am today".
Mpofu, who previously worked in various entities including Eskom and Eskom Enterprises, believes that the future of ICT in universities should be driven by technologies and automation.
He says the departments at Wits need to be reorganised to align with the "moonshot moments" envisaged by Professor Zeblon Vilakazi, Wits's new Vice-Chancellor.
"The digitization of the University is core to the future. Understanding user needs and expectations is paramount if ICT is to remain relevant. The automation of ICT processes and using interns will help address resource constraints, but ICT requires adequate resources in order to support the academic project adequately," he concludes.