Gold medal for Wits Centre for Exercise Science and Sports Medicine
- Wits University
Exercise is Medicine® On Campus (EIM-OC) awarded Wits gold level designation for the Centre's efforts to create a culture of wellness on campus.
The Centre for Exercise Science and Sports Medicine (CESSM) at Wits University is one of just 73 campuses worldwide that was awarded gold.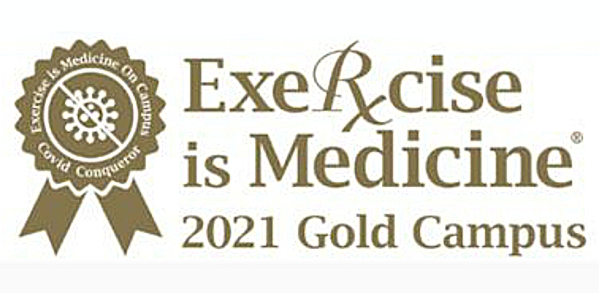 EIM-OC calls upon universities and colleges to promote physical activity as a vital sign of health and encourages faculty, staff and students to work together to improve the health and wellbeing of the campus community.
"It is a privilege and an honour to be part of this initiative that allows us to impact student and staff health. Our aim in 2020 was to reach and offer the power of physical activity to all at Wits University through digital initiatives, virtual classes, and small group class sessions," says Dr Georgia Torres, Lecturer in CESSM and the Wits EIM-OC leader. "It was a great team effort from all at the Centre for Exercise Science and Sports Medicine."
Elevating exercise and conquering lockdown inactivity at Wits
The CESSM's Implementation of the Physical activity vital sign and Physical activity referral system contributed to the Centre's gold level designation.
CESSM also earned EIM's COVID Conqueror badge, a new honor given to campuses that demonstrated creative adaptations to physical activity programming during the Covid-19 pandemic.
The following initiatives undertaken by CESSM earned Wits gold campus status from the EIM-OC:
Established a referral system between Campus Health and the Centre through which Campus Health can refer those needing exercise to manage non-communicable diseases, or for other reasons, to the Centre's exercise facility.
Hosted a Wellness Week during which staff members could have their physical activity vital signs and cardio-respiratory fitness assessed, along with guidance towards their next steps for health.
Made a physical activity mobile app available as hard lockdown began in March 2020, to enable Witsies to stay active.
Offered walking groups and other exercise classes – e.g., back, functional strength classes – as lockdown restrictions eased and facilities reopened.
Continued efforts to incorporate physical activity education into the undergraduate medical curricula.
International recognition of efforts towards a culture of wellness locally
The American College of Sports Medicine (ACSM), the largest sports medicine and exercise science organisation in the world, co-launched Exercise is Medicine® in 2007 with the American Medical Association.
EIM-OC launched its recognition programme in 2014 to honour campuses for their efforts to create a culture of wellness.
Schools earn gold, silver or bronze status based on their activities. Gold level campuses have created a referral system where campus healthcare providers assess students' physical activity and refer students as necessary to a certified fitness professional as part of medical treatment.
Silver campuses engage students, faculty and staff in education initiatives and make movement part of the daily campus culture, while bronze level campuses promote and generate awareness of the health benefits of physical activity.
All gold, silver and bronze universities and colleges will be officially recognised in June as part of the 2021 virtual Exercise is Medicine World Congress, held in conjunction with the American College of Sports Medicine's Annual Meeting