Find your voice in science communication
- Wits University
The search is on for the next Pop Idols of Science at the 2021 Wits FameLab Science Communication Competition.
The popular FameLab International Science Communication Competition, dubbed "Pop Idols of Science," will be hosted at Wits University from 7 to 8 April 2021. FameLab is one of the biggest science communication competitions in the world, designed to challenge young scientists to communicate their science to a general audience in under three minutes in a fun and engaging manner.
Wits has been hosting the FameLab competition since 2017, in which the semi-finalists have continued to expand their interest in science communication. The international science communication competition, through the training, hones and develops the public communication skills of participants, while the competition fuels their interest in science communication and showcase their research.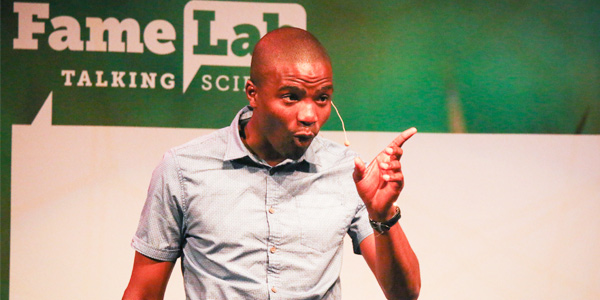 The 2021 Wits FameLab will take place online via Zoom. The competition takes place in two phases. The first phase is a one day science communication workshop on Wednesday, 7 April 2021, and the second phase on Thursday, 8 April, 2021 is a day of presentations by the entrants (called the Heat), where students will compete against each other, presenting their research in an interactive and informative way.
Jive Media Africa will run the science communication workshop. To partake in the Wits Heat, entrants need to attend this workshop first, which will be free for all participants. The talks (heat) will be based on the research of entrants and should not be more than three minutes long. No PowerPoint slides or similar aids are allowed, except for small props. The talks will be judged on content, clarity and charisma.
The semi-finalists of the Wits Heat will go through a regional competition, where they will compete for their spot in the national finals. The participants emanating from the national finals will battle it out for the title of FameLab SA winner and will represent the country at the international finals.
The competition promises to be an opportunity to gain great experience and skills in communicating your research. While it takes the format of a competition, it is primarily a development initiative, which provides students an opportunity to share their research and science with the public audience.
FameLab Videos
Watch the 2020 South Africa finals
Video of the 2018 FameLab winner
Watch talks of 2017 FameLab semi-finalists
Who can enter?
The competition is open to students between the ages of 21 and 35 (more focussed on postgraduate, but can also be undergraduates). The focus of the competition is on the communication of Science, Technology, Engineering and Mathematics (STEM), so anybody in that field will be allowed to enter. Fields outside the STEM are also welcome. Students who do not meet the entry criteria are welcome to participate in the training workshop.
Should you wish to enter, please submit your details by 6 April 2021 via this link: https://forms.gle/EYKT93iDKZjy3pAh9. Log in to your Wits email address to access the form.
Enquiries: Refilwe.Mabula@wits.ac.za