Covid-19 recoveries: Our stories of hope
- Wits University
Wits staff members share their Covid-19 experiences and quest to survive.
Disbelief, shock and agony were recurring emotions when some Wits staff members tested positive for the novel coronavirus.
A year ago, the first case of Covid-19 was reported in South Africa and weeks later, the President announced a national lockdown as the number of infections began to surge. For many, this was their interaction with the virus was limited to broadcast media and social media platforms. However, the virus started to infiltrate communities coming closer to home.
"I used to follow the daily statistics and at that time, it was distant from me. It was only when I contracted it in May last year that I felt its existence," says Horatio Williams, a Covid-19 survivor from Wits ICT. "Before you contract the virus, you do not think much about it."
Sifiso Vilakazi, from the same Department echoes the same sentiments, stating that before he contracted the virus, he ridiculed it and dismissed its existence.
Covid-19 scare and fears
Although Williams was asymptomatic and learnt of his Covid-19 status through a medical procedure he had to undergo, the virus affected him psychologically as he asked himself endless questions and was worried whether he had transmitted it to his colleagues and family.
"I kept asking myself where and how I got the virus. Did I infect anyone? Why did I get infected when I had been so careful?"
Another staff member, Faye Khan from Marketing baffled with the same questions. As a person with a comorbidity, she says she had been extra careful as she is considered high risk.
"None of my family members contracted the virus, I had not been in contact with anyone known to have tested positive and I was staying at home most of the time." Not knowing where she may have contracted Covid-19 was distressing for Khan and fuelled fear in her life.
"I am diabetic. So when I got my results, I looked at the SMS and thought, 'this is the end of me'," she says. At the time she tested positive, Khan had just lost her twin sister and as such, her fear of death intensified. This worsened when she found herself hospitalised when her symptoms became severe.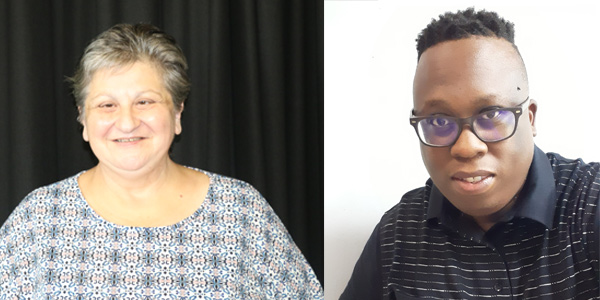 Tackling symptoms: Road to recovery
Experts have described Covid-19 symptoms being similar to those of the normal flu and these can vary from mild to severe symptoms where hospitalisation is required as was the case with Khan when she experienced high fever and breathing difficulties.
Anna Veileroglou from the Function and Events team, tested positive in December. Her symptoms were mild, she says but she felt weak and her body was in pain. "At some point I said I am going to text my family and say goodbye." The prescribed medication assisted with her symptoms and helped her regain strength. Taking time to rest also contributed to her recovery she says.
Tebogo Sibilinga, a paramedic from the Campus Health and Wellness Centre says he had a high fever and chills. During his recovery period, he took everything that could aid his health. This included eating immune boosting vegetables raw, to get the full benefits of their medicinal properties.
ICT's Vilakazi who considers himself fit and healthy with no comorbidities says his initial symptoms were mild and resembled those of a normal flu. Consequently, he was not too worried and thought these would disappear with over the counter medications. However, they exacerbated instead. He shares how his symptoms went from mild to severe within a few days while on holiday with his family in KwaZulu-Natal in January.
"I started coughing but thought I was acclimatising to the new environment. On the third day of our holiday, I started losing my sense of smell and taste. I did not want to spoil the holiday and decided to ride it out," he says.
Vilakazi was forced to cut the holiday short when his fever rocketed and began coughing blood. Upon his return, he headed to the doctor and was prescribed antibiotics while recovering from home but his health deteriorated rapidly. "Hardly two hours when we got home, everything turned haywire. Suddenly I could not breathe. I could not even call my wife to help me. I had to send her a WhatsApp to take me back to the doctor and I was immediately admitted into hospital," he says.
"The scariest thing is not being able to breathe and gasping for air. When you try to breathe through your mouth or nose and nothing comes through it is scary and you literally feel like you are dying when that attack starts and you panic." After spending more than a week in hospital, his condition improved and could now breathe on his own without a ventilator.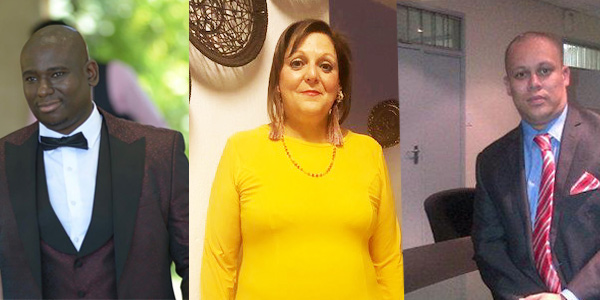 Positivity for a positive outcome
While in hospital, trying to recover and regain his strength, Vilakazi took a hard knock when he witnessed his wife, who had also tested positive being wheeled into hospital. This experience motivated him to recover and to remain optimistic.
"At that moment I realised I needed to fight more. I started thinking positively. I saw myself out in my garden playing with my kids," he says.
Khan stresses the importance of a positive mind set while fighting Covid-19. "People must remain positive and have faith.
Sibilinga says contracting the virus comes with a lot of pressure and family support is crucial during recovery. He states that a healthy mind set is important because the virus can affect you psychologically. Sibilinga is currently taking care of his mother who is battling Covid-19 and seeing her sick has affected him. He says people need to heal mentally as well from their Covid-19 trauma.
"People must go for counselling if they can. It does not help to be recovered (physically)," says Sibilinga.
Living beyond Covid-19
While Covid-19 has had some negative implications and brought about unprecedented changes in society, it has inspired a changed in behaviour for many. For Williams, the pandemic enacted a sense of self-awareness.
"I pondered a lot when I tested positive, but I am glad that I had Covid-19 because some good came out of it. Covid-19 helped me to re-evaluate my life and to appreciate my family and friends more," he says.
Although he has recovered, he says the storm is not yet over and he is extra cautious now. "I do not want to relax. I have told myself that I am not going to be the person who is going to test this thing," he quips. He wants to continue complying to protect those around him. "Besides keeping our family safe, we have an obligation to keep each other safe."
Post his recovery journey, Sibilinga has adopted a healthier diet as part of his lifestyle and in a quest to boost his immune system. His health has become his greatest asset, does not take it for granted. Having lost his uncle to Covid-19, he implores others to do the same.
"Covid-19 has showed me that life is short. If you have dreams, stop postponing them and pursue them. People need to comply with the regulations." We need to protect ourselves because it does not mean that if you recovered you cannot be re-infected again."
Veileroglou, who recently lost her father to Covid-19 says although she is still dealing with the pain of her loss, she feels motivated and is mentally ready to tackle the world.
Wits University through the independent services of Kaelo Lifestyle offers free counselling support for all staff members. The services are provided in all South African languages 24/7 days a week. Staff may call 0861 635 766 OR dial *134*928 OR Send a 'Please call Me' to 072 620 5699 OR email asknelson@kaelo.co.za for assistance.