Witsies head to national entrepreneurship intervarsity finals
- Wits University
Three students will represent Wits at the national entrepreneurship intervarsity competition.
Wits University participated in the Entrepreneurship Intervarsity Challenge for the first time this year where Witsies, Karabo Petja, Kgotso Skhosana and Phetha Mchunu were winners of the Gauteng regions in three of the four categories of the competition. The intervarsity challenge, which is in its second year running, is an initiative of the Entrepreneurship Development in Higher Education (EDHE) programme intended to develop the entrepreneurial capacity of students, academics and leaders.
The trio competed with students from institutions in Gauteng under the categories, Existing business: General Category, Existing business: Social impact category; Business Idea category and Existing business: Technological Impact. They will present their business ideas at the finals on Thursday, 26 November 2020 and winners will be announced at the EDHE Awards on Friday, 27 November at the Premier Hotel OR Tambo.
The competition nurtures the business potential of participants, exposes them to numerous business networks and provides them an opportunity to broaden their skillsets. The challenge also helps them to become confident entrepreneurs with good self-esteem.
Petja, a third year mechanical engineering who won the social impact category for his business idea, Find a Funder ( FAF) said the intervarsity competition was "exhilarating" and is looking forward to vying for the grand prize of R100 000 in funding along 27 other entrepreneurs from across the country. Moreover, Petja says he gained key business values from the competition.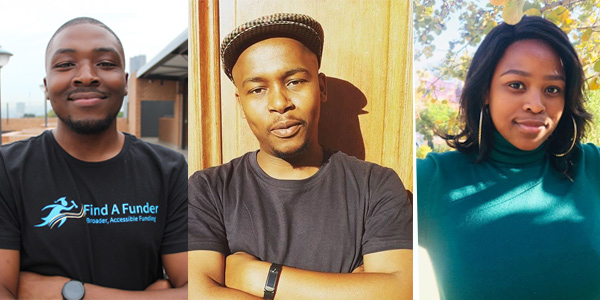 "It allowed the Find A Funder team to delve deeper into our value proposition and the space that we are in. It tested our understanding of business knowledge and reaffirmed our vision and aim as a company that provides a technological solution to a societal problem," he says.
FAF is an online platform for bursary and early career opportunities, which matches companies with their ideal candidates in under five minutes. The platform is free to use for high school learners and students. The career matchmaking site has simplified the recruitment process for companies says Petja.
"For companies, we save them time and resources on their current recruitment processes. With the current conventional ways of recruiting bursars and graduates, companies have to filter thousands of applications to find their ideal candidate," he says. Petja says the initiative stemmed from his desire to harness his potential and create social impact.
Skhosana, a law postgraduate student is the founder and owner of KRS (Kgotso Richard Skosana) Deliveries, an eco-green courier service company that delivers fast foods and parcels in the East Rand, Gauteng. The courier services makes use of green scooters and bicycles for deliveries. The self-motivated entrepreneur, who won the category, Existing Business during the regionals in August is passionate about township economy and creating employment opportunities in townships.
"I am passionate about job creation and the township economy. I think if we make it (KRS Deliveries) more formal, we will create more jobs in townships. I am ambitious about my success. I want to finish school and also want my business to be successful. I have a lot of people who are counting on me. I will create jobs while keeping the environment clean," he says.
Another law student, Mchunu, winner of the Business Ideas category in Gauteng said she first heard of the word entrepreneur in primary school and it appealed to her.
"I remember the first time I heard the word entrepreneur. I was in primary school and on career's day my teacher said "An entrepreneur is someone who identifies a problem and tries to solve it". I knew right then that that is what I wanted to do," she says.
She hopes to contribute to the eradication of poverty and unemployment through her company, Gridpit, a recycling waste collection and selling company targeted at residential estates, complexes and business areas. Her company seeks to incentivise end-users to sort their waste at home, making recycling rewarding for them as well.
"We are also looking to partner with waste reclaimers in an effort to give them the recognition they deserve and formalise that segment of the economy. We believe in being the advocates and instruments of a circular economy by increasing the redirection, recycling, and reuse of plastic and paper. Our mission is to perpetuate this process until there is zero recyclable waste going to landfills. I definitely think many people struggle with recycling and Gridpit is a great way to incentivise everyone to get involved," says the student entrepreneur.
Jerome September, Dean of Student Affairs at Wits wished the students well stating that their initiatives will contribute to solving societal challenges.
"We delighted to have the university represented by three students in the national stage of the competition. When we look at each one of the business ideas from our students, one must also appreciate that these businesses are concerned with addressing real challenges facing our society. This is what sets the Wits student apart. We are very proud of them and wish them the very best," he said.
The three students will pitch their businesses at the national finals and attend the prestigious EDHE Awards 2020. They will have an opportunity to network with like-minded peers and top studentpreneurs from across the country.
Category winners in the national finals not only walk away with cash prizes, but also qualify for business support and mentorship to develop their business ideas and/or grow their winning businesses.