Wits secures R150 million endowment for the missing middle
- Wits University
The University secures R150 million endowment for deserving students, one of the largest donations ever made for the benefit of the University.
The University of the Witwatersrand (Wits) aims to secure R3 billion in new funding by the end of 2022, the year in which it turns 100. The Centenary Campaign includes the establishment of a substantial student endowment fund, funding for research chairs and centres, and investments in infrastructure and equipment, to ensure that Wits continues to advance society.
"Wits is a national treasure renowned for its research and academic excellence, and commitment to social justice. It is imperative for all sectors of society to invest in research-intensive universities that have the ability to create new knowledge and to develop the high level skills required to advance society," says Professor Adam Habib, the outgoing Vice-Chancellor and Principal.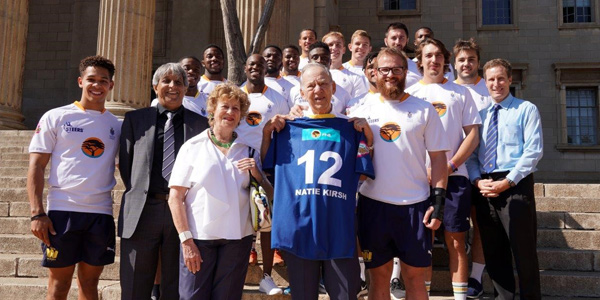 The Centenary Campaign aims to address one of the greatest challenges facing Wits and similar higher education institutions - the funding of talented students from the "missing middle" whose families are not wealthy enough to pay their fees but whose cumulative household income excludes them from accessing financial aid. Wits alumnus Natie Kirsh is launching the campaign, with a R150 million endowment to provide scholarships for these students.
"The establishment of a substantial student endowment fund will go a long way towards transforming the lives of talented Wits students," says Professor Zeblon Vilakazi, Wits' Vice-Chancellor Designate. "It is thus with great pleasure and gratitude that we welcome the Kirsh Foundation's R150 million endowment commitment."
The R150 million gift is one of the largest donations that has ever been made for the benefit of the University.
"Wits played an integral role in transforming my life. I am giving back with the hope that Wits can have the same impact in transforming the lives of young people for generations to come," says Wits alumnus Mr Natie Kirsh of the Kirsh Foundation. "I am a proud member of the Wits community, and I hope that my contribution encourages my fellow alumni to join me in supporting the Centenary Campaign."
Wits University serves as a bridge from a divided past to a united common future. The Centenary Campaign provides an opportunity for our global community to celebrate the impact that Wits has had on their lives, on society, and on humanity. As Wits has shown over the decades, a University education is uniquely transformational in its ability to address inequality, enhance social mobility, and maintain the highest level of academic freedom. If we can give more people access to quality education at Wits, and attract top teaching and research talent, we can do so much more to tackle inequality, contribute to employment and drive sustainable development.
Read more about the Wits Centenary Campaign and Wits' next chapter at http://wits100.wits.ac.za/.