Wits ranked first in Africa
- Wits University
Wits is top of the class in the 2020 Academic Ranking of World Universities.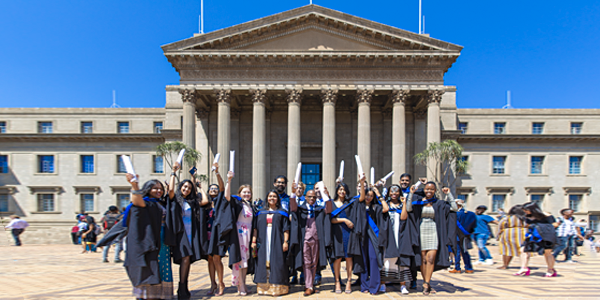 The University of the Witwatersrand has been ranked first in Africa in the 2020 Academic Ranking of World Universities (ARWU) that has just been released. It has been placed in the 200 – 300 band – there are approximately 25 000 universities in the world.
"This achievement is the result of Wits' continuous effort to publish more high quality research in international journals. Over the past seven years, Wits' research output has more than doubled, thanks to the efforts of our world-class researchers, proactive research stewardship, and the efforts of our scholars and students," says Professor Adam Habib, Wits Vice-Chancellor and Principal. "Wits is also home to a number of highly cited researchers, more than double that of any other South African university."
The ARWU adopts six objective indicators to rank world universities, including the number of alumni and staff winning Nobel Prizes and Fields Medals, the number of articles published in journals of Nature and Science, the number of Highly Cited Researchers and articles indexed in the Science Citation Index - Expanded and Social Sciences Citation Index based on data in the Web of Science, and per capita performance.
Habib adds: "It is important for South Africa and the continent to develop and adequately support its own research-intensive universities so that we can continue to conduct world-class research with local understanding and impact that addresses the transnational challenges of our time. There is currently an enormous shift of resources away from our research universities which will ultimately compromise our national and systemic research capabilities. As a society, we should collectively commit, with the support of government and the private sector, to go beyond rhetorical support and proactively enable our research universities to produce the high level skills and knowledge required to address our current problems, and the challenges of the 21st Century, many of which are still unknown."
Wits scholars are currently working in areas of research that directly affect humans, from developing life-saving vaccines and COVID treatments, to securing the future of our planet through addressing matters related to climate change, energy, technology and health. From exploring our beginnings to documenting our history; from making everyone healthier to solving inequality; from driving global change to reimagining mining; from advancing technology to exploring what it means to be human in a digital world – Wits scholars are changing the world and building the next generation of scholars and intellectuals.
"Wits is committed to producing research with impact, including discovery research that changes disciplinary thinking; translational or applied research that influences policy and practice; and innovative research that can save lives, or in other instances, research that can be taken to the market," says Prof. Zeblon Vilakazi, the Wits Vice-Principal and Vice-Chancellor Designate. "Our rising through the ranks would not be possible without our researchers who are fearless in their pursuit of new knowledge and innovation, are critical thinkers, problem-solvers, pioneers of science, and agents of change. Our academics are valued for their independence and ingenuity, their fight against injustice, their pioneering work in advancing the humanities and the sciences and their strength in advancing economic development."
Read more about Wits' latest research at www.wits.ac.za/news/latest-news/research-news/ and its multimedia playlists https://www.wits.ac.za/news/playlist/