Studying from home
- Wits University
It's a mixture of feelings as students face the impact of Covid-19 on their studies, exams, research and careers.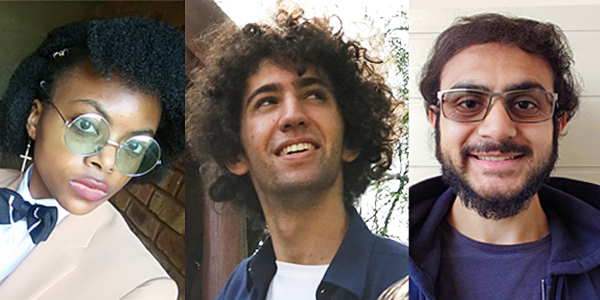 Students at various level of their studies are featured in the Faculty of Science's August 2020 newsletter where they share how the pandemic has affected their studies and outlook on a range of matters.
Enice Tshiya Wa Ntita, first year BSc general
Q: Do you feel that the pandemic impacted your learning?
A: The transition to remote learning was not that difficult but it is very easy to fall behind if one is not very careful.
I am hoping that I can keep up with my work so that I can complete on time and get close to my goal. My plan is to work in the science field and save enough money to move onto medicine which was my first choice but I missed the application deadline.
I am very proud to be studying at Wits because of how fast the University reacted to ensure that despite the pandemic we were able to still continue our studies and the range of support offered to students.
Q: What are some of the lessons that you have learnt during this period?
A: This period has taught me to be disciplined, not just about school but also taking care of my health during the pandemic. I feel like this period would be easier if a person had access to everything they need for successful learning such as data, electricity or simply a quiet place to work in.
Q: Campus must feel like a distant memory, what do you miss about it?
A: The thing I miss the most about campus is being in lectures as I understand work better when it's being directly taught to me rather than learning it remotely. I am looking forward even to the dreaded daily commute from Benoni to Wits.
Benjamin Dorfan
3rd year, Bachelor of Science in Astronomy and Astrophysics
Q: What made you choose this academic programme?
A: It sounded like an interesting degree. I did some research into what it would involve as a career and it seemed like coding and modelling data and that interested me at the time. However, we only started astrophysics related coding this year. I aim to use the skills learnt in other industries.
Q: How are you managing with remote learning?
A: It's a big change. It requires a lot more discipline and I find that it's hard to get into a working mindset. Additionally, if I'm struggling with some work, I find it a lot harder to reach out, whether to friends or staff, to get help. It feels more difficult as, before, you could go to the lecturers during their scheduled times. Now, it feels like an intrusion to email them.
One of the things that stresses me is that the has moved all our mid-year exams to the end of the year, which is going to add an incredible amount of stress to all the students. We now have an incredible amount of work to do, as we will have to either revisit the entire courses we have completed or continuously revise them as the year progresses on top of our other courses. It feels like the Faculty was/is too worried about plagiarism rather than the actual life and mental health of their students.
Q: What do you miss about campus?
A: At the start of this year, I began mountain climbing which was very enjoyable. Unfortunately, that is not doable right now, but the club has started a fitness programme. I also miss being able to talk to friends on the lawns, and the chips from Tubatsi.
It also helps that I am in a band, so I play music and write songs to relax.
Dhruv Bhugwan
Masters in Computer Science
Q: What made you choose this academic programme?
A: For my dissertation I am specialising in machine learning with a particular interest in computer vision. I am really fascinated by how computers interpret images and videos. This comes from when I was a kid watching detective movies, I was intrigued by how they would enhance very blurry pictures and make them almost photo perfect to identify a number plate or the criminal.
Q: How do you intend using this knowledge?
A: I want to look at systems which can aid people in correcting and performing movements with minimal injury to themselves especially joints such as knees, hips, and shoulders. As someone who practices karate and a few other martial arts, I have noticed a difference between performing an action and performing it with good technique. People do not always have experts or friends working with them as such their technique can drop over time and this can slowly cause permanent injury.
Q: How are you managing with remote learning?
A: The largest hindrance that I have encountered during this period is that over time my motivation drops when results do not pan out and my productivity is very low during those times. I am lucky that I have remote access to computers at Wits and can access them when I need to test my machine learning models.
Q: What is the biggest lesson for you right now?
A: The lockdown gave me something that I always thought I want – to stay at home. I can safely say that being at home all the time isn't as good as I had originally hoped. Interacting with my friends and simple things like going to train at our dojo is what kept me going through the disappointing parts of my research.
I really want to train at the dojo again. We currently train daily over Zoom but it just isn't the same. I need to set more strict work hours for myself and hours where I will just play games or talk with other people.