Moya wins Best Student Film at SAFTAs
- Wits University
A group of Wits Film and TV students scooped the Best Student Film Award for their film, Moya.
The winners of the 14th South African Film and Television Awards (SAFTAs), which took place virtually due to the national lockdown, were announced on 29 April 2020.
These awards, established in 2005 honour and celebrate the excellence of talented creatives in the South African Film and Television industry. The SAFTAs also encourage entrepreneurship and the development of new talent within the industry.
The production crew of the film, Moya from the Wits Film and TV Division is one of the many new talents recognised at the SAFTAs this year.
The 15-minute film interrogates culture and religion and "how these two institutions influence each other and in turn influence the psyche of an individual," says Siyabonga Mbele, writer and Director of the film.
In the film, the main protagonist, Nosipho finds herself in a spiritually conflicting position where she is confronted with ideologies of worship from two belief systems – the cultural and religious.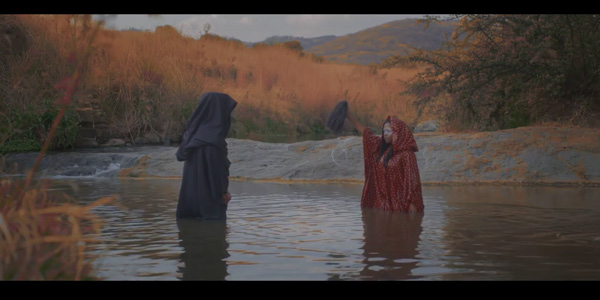 Mbele says when he wrote the character, he wanted her to question her spiritual identity and "how these then cause an inner conflict within her that needed solving."
In a quest to solve her spiritual dilemma and find her identity, she seeks guidance from her pastor and her traditional healer mother.
"Through this journey of finding her spirit she encounters barriers which she has to overcome. These obstacles push her deeper and deeper into her quest to find her spirit and eventually she gets a revelation during the final climax of the film," says Mbele.
The Moya (vernacular for spirit) crew consisted of final year Film and TV students Stuart Young, Producer; Nombuso Madela, Producer and Art Director; Boitumelo Molalugi, Sound Designer and Recordist as well as Mbele.
Scenes from the film, which was shot over seven days, move across various locations in Johannesburg, which include Kliprivier Nature Reserve, Soweto, Trinity Church, Crown Mines, PRASA and Bryanston.
The crew said they were thrilled that their talents were recognised at the biggest film and television awards in the country. This award encourages them to reimagine African storytelling said Mbele.
"Receiving a SAFTA award for the film tells us that our concepts are heading in the right direction and that our efforts are recognised. It is motivating and gives us hope that innovating African cinema can be rewarded."
WATCH Moya via https://www.youtube.com/watch?v=oBm-QQ-xbPA