Dr Dalia Saad awarded prestigious FLAIR fellowship
- Wits University
School of Chemistry researcher, Dr Dalia Saad, is a recipient of the 2020 FLAIR research fellowship.
Saad, an environmental chemist is among 30 young researchers from African countries including Sudan, Ethiopia, Madagascar, Cameroon, Uganda, South Africa and Ghana who will receive up to £300,000 each to conduct research over two years.
The FLAIR research fellowship by the African Academy of Sciences (AAS) and Royal Society, supported by the UK's Global Challenges Research Fund (GCRF), supports African researchers to develop into science leaders while establishing independent research careers on the continent. The fellowships are to undertake cutting-edge scientific research that will address global challenges facing developing countries.
These fellowships enable high-quality research that addresses the global development challenges faced by the African continent and provide world-class support, training, mentoring and networking opportunities to benefit early career African researchers.
Saad joins the 2019 intake of FLAIR fellows, who are already making a significant contributions to science on the continent in their fields. Her reresearch interest is on water pollution and promoting access to clean healthy water. Saad says one of the emerging environmental concerns is the Microplastic (MPs) pollution and there is little research that has investigated Microplastics in freshwaters and in Africa.
Using her research fellowship, she aims to address MPs pollution in The River Nile in Sudan and Vaal River in South Africa, which are both major African freshwater bodies in terms of their economic and social value.
"The River Nile is particularly important as the river influences people living in 11 African countries and flows through heavily populated cities. South Africa is ranked within the top 20 counties with the highest mass of mismanaged plastic waste, yet only one study has investigated MPs presence in SA freshwaters. In Sudan, there is no single study reporting the prevalence of MPs in water bodies. The outcomes of this project will therefore provide the first data on the extent of MPs presence in the River Nile, and will be the second study to estimate the abundance of MPs in the Vaal River. This will be beneficial to guide future monitoring and to facilitate decision-making and related legislation," she says.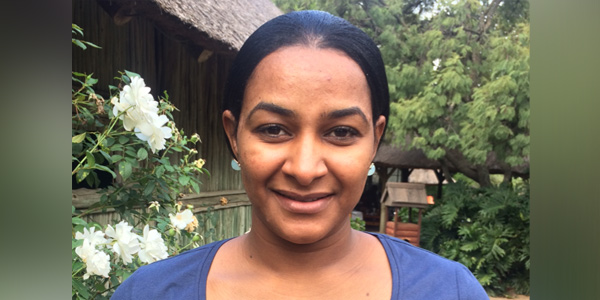 Saad says the award resonates with her personal interests and will aid in advancing her career as a researcher. "Thanks to the Royal Society and the African Academy of Sciences, I believe FLAIR will be a turning point in my career."
Professor Nelson Torto, Executive Director of the African Academy of Sciences, says, "The AAS welcomes the new cohort of FLAIR grantees to our growing postdoctoral family. Postdoctoral programmes are vital in training and developing early career researchers into research leaders whose scientific leadership will influence policies that will promote the socio-economic development of the continent."
Dr Judy Omumbo, Programme Manager, Affiliates and Postdoctoral Programmes, says, "The announcement of this second cohort of FLAIR fellows is a significant milestone for the postdoctoral programmes team at the AAS. We anticipate that they will find the opportunities for networking and collaborations with other African scientists unique in supporting them in their pursuit of excellence in science for the benefit of mankind."
Professor Richard Catlow, Foreign Secretary of the Royal Society congratulated all the fellows.
"Climate change, food sustainability, emerging disease, these are challenges facing us all, but the risks they pose to individuals and ecosystems across Africa are especially pronounced. We are proud to be part of a programme that is investing in the next generation of African scientific leaders, as they research solutions and adaptations to these challenges."
Catlow added that the success of the programme is growing across the continent. "This programme extends well beyond the grant recipients themselves. Our first cohort of FLAIR fellows are forging partnerships across institutions and disciplines, supporting young African PhD candidates and postdocs, and helping strengthen the research economies in countries such as Senegal, Democratic Republic of Congo, Cameroon, and the wider continent. We know this second cohort of talented FLAIR researchers will match their success."
The next round of FLAIR applications is currently open and will close on 27 May 2020. More details about eligibility and how to apply here.