Africa Day in the time of Covid-19
- Wits University
Wits Vice-Chancellor and Principal Professor Adam Habib is part of a panel discussion commemorating Africa Month.
Hosted by The Art of Living Foundation and the International Association for Human Values, The iMeditate Africa Series focuses on socio-economic matters facing the African continent in the time of Covid-19 and how we navigate through these challenging times.
The panel discussion with Gurudev Sri Sri Ravi Shankar will be followed by a meditation session. Both these online events will be streamed via the Art of Living social media platforms.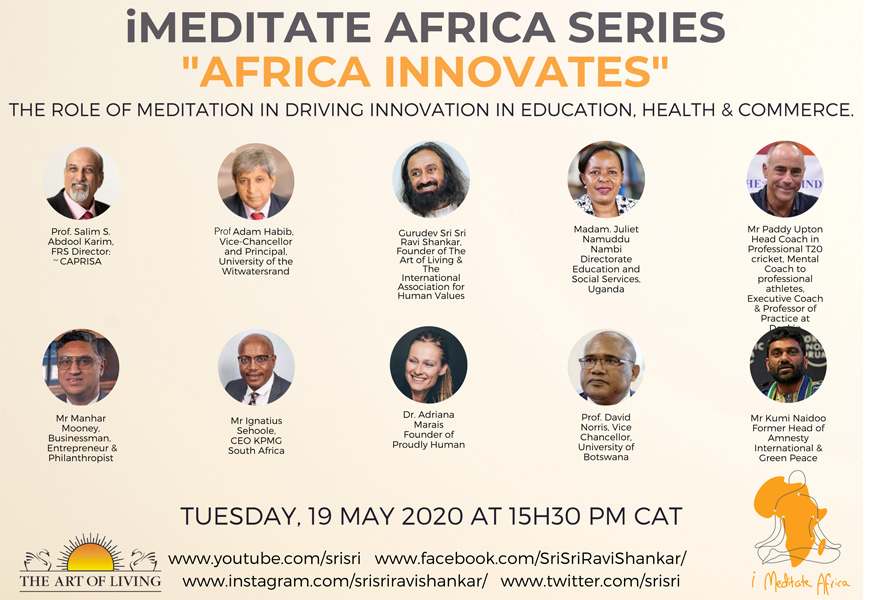 The iMeditate Series will culminate with an event themed "Africa Unites" on 23 May 2020. This event takes place just days before the annual Africa Day observed on 25 May, to commemorate the foundation of the Organisation of African Unity on 25 May 1963. Many African countries dedicate the month of May to celebrate Africa and galvanise her people to work towards the stability and economic prosperity of the continent.
Read more at www.imeditateafrica.org
Connect to discussions via:
Twitter: www.twitter.com/srisri'
Facebook: www.facebook.com/SriSriRaviShankar/
YouTube: www.youtube.com/srisri
Instagram: www.instagram.com/srisriravishankar/