Hay'khona Corona! Spreading the word, not the virus
- Wits University
A poster series to action South Africans on how to care of themselves and others.
Wits University students who participated in the South African leg of FameLab, an international science competition, helped to translate a series of posters with a key messages on how every South African's actions can save lives.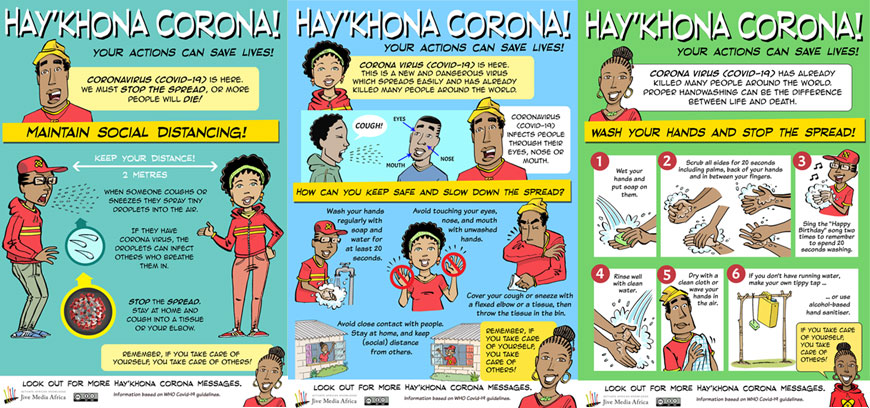 The multilingual posters were produced by research communication specialists Jive Media Africa, and are published with a Creative Commons license so you are free to copy, print and share them (provided no modifications are made).
"Altruism is a strong motivator" says Jive Media Africa Director Robert Inglis, "People are looking for ways they can help, and sharing relevant, relatable messages is one of those ways."
Hay'khona is an isiZulu expression signalling strong negative sentiment. Inglis says the posters say:
No, not here! to COVID-19
The posters have been translated into a number of languages from South Africa and other African regions, including IsiZulu, IsiXhosa, Setswana, Sesotho, Sepedi, SiSwati, Tshivenda, Xitsonga, Afrikaans, Yoruba, Luo and French.
https://jivemedia.co.za/science-spaza/haykhona-corona-spreading-the-word-not-the-virus/