First years share their hopes as they start university
- Wits University
Wits' newest cohorts are looking forward to mingling with one another.
University can be an enthralling experience for high school leavers as they embark on their new academic journey, which will bring them a step closer to realising their dreams.
Classes have commenced at Wits University following a successful Orientation Week at Wits, which ran from 26 to 31 January 2020The Wits O-Week programme featured a host of workshops, tours and activities to equip new students with key skills and knowledge about University structures in order to ensure success.
Wits Communications spoke to some of the first years about their wishes for the year.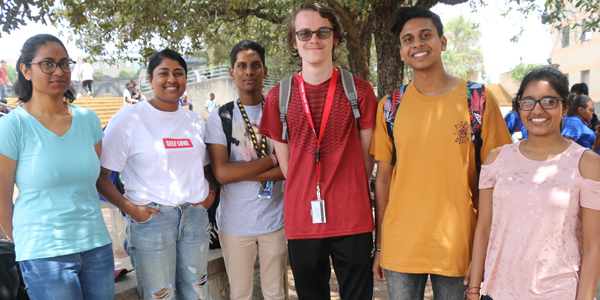 Engineering students from the Faculty of Engineering shared their excitement of being part of the Wits community. Tristan Reddy, a mechanical engineering said he is looking forward to making new friends and engaging with other students in his faculty.
Surisha Nadasen who hails from Durban nearly 600 kilometres from Johannesburg wants to build her social network within the University and learn key values.
"I am also interested in sports, just to socialise with people. I feel like it is very good to have connections everywhere because you never know when you might need help. You also learn many values by playing different types of sport such as teamwork and learning to listen to people as well as some leadership skills."
With over 50 student clubs and societies on offer, the 'Durbanite' wants to join the Wits self-defence club.
"Everyone needs to know how to protect themselves in any situation," she quips.
Nadasen is registered for a biomedical engineering degree, something ofpersonal significance.
"My granny is an amputee and does not have both her legs. We have been through a lot of financial problems and I really want to give back by at least building her two legs that she can use properly," she said."
She wants to use her experience to contribute to biomedical solutions that will improve the lives of the amputees and their families.
Medical student Nkateko Sondlane expects that adjusting to University will be quite challenging because of the new environment and system. She, however, feels more relaxed after attendingO-Week The week helped her to understand her faculty (Health Sciences) better and learn about tutorials that will supplement her studies.
With the campus buzzing and all hands on deck to help first-years, the Campus Housing and Residence Life Office also held several events to ease the new Witsies into their new homes.
On Friday, 31 January 2020, students residing on Campus were welcomed at two dinners held on Education and East Campus. Aside from the scrumptious meal, students were treated to a vibrant performance by Clemour Ngubane, the VoiceSA 2016 finalist.
The Dean of Student Affairs Jerome September had a heart-to-heart chat with the cohort and urged them to guard their academics.
"Only a few were selected to join Wits. You came through the front door and you are not here by mistake. Study hard and prepare for your lectures ahead of time. University is different from high school. Use this opportunity to become a better person."
He also encouraged the first years to be involved in the University and residence activities so they acquire skills and learn values they would not get from class and to practice acts of kindness by lending a helping hand to those less fortunate.