African languages for sustainable development
- Prof. Leketi Makalela
A national strategy for mother tongue languages will guide action and address deeply held beliefs about African languages, writes Professor Makalela.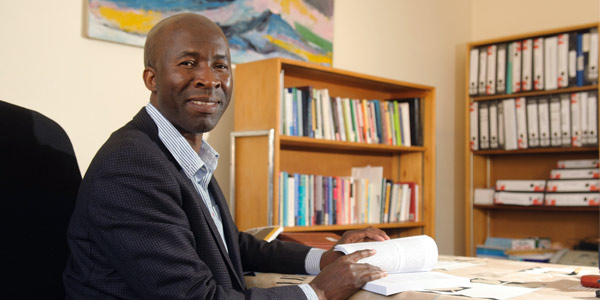 International Mother Tongue Day observed annually on 21 February reminds us that language activists in South Africa face a multitude of challenges in their quest to preserve and promote indigenous African languages.
In South Africa, indigenous African languages spoken by over 70% of the population face degradation, and marginalisation despite the country's intentions to put them on equal footing with Afrikaans and English.
Much work needs to be done to tackle the unfounded myths borne out of the colonial discourses of divide and rule, and which many speakers of African languages have mistakenly come to believe. Some of the prevailing myths include the following beliefs:
African languages are not developed for academic and scientific communication
The reality is that there is no language born with the scientific concepts it represents. In an open linguistic ecosystem, African languages are able to borrow and contribute vocabulary and concepts in the same way that English does. For example, 80% of words used in English today are loanwords.
It is expensive to use many languages, therefore, having only one language makes economic sense
The reality of economics is that costs are always measured against benefits – what economists call cost-benefit analysis. Critics of multilingualism cite costs without telling us about the benefits of using African languages. Also, the costs of material development and teacher preparations are not calculated and weighed against the costs of drop outs, failure rates and low levels of literacy attributed to teaching in a language that learners do not understand. Research conducted by the World Bank shows that the initial costs of teaching in mother tongue for governments will be about 5% higher than the current education budget in the first year, but these costs will level out in the long run. The benefits of using African languages for sustainable development are far higher than the narrow look at the immediate costs. That is, the intellectual capital and meaningful participation in the economy will be improved with the use of indigenous languages.
People don't need African languages because they are not geared for employment and upward social mobility
The argument for using African languages as the medium of learning and teaching in the basic education sector does not exclude the teaching of English as a compulsory subject. Children need to be taught in the languages they understand as a precondition for deeper levels of understanding and development of a strong self image. Mother tongue languages offer benefits of developing basic skills, which are necessary for survival in the work place.
It is the democratic rights of parents to choose English in lieu of African languages
This has been the chief myth of democracy that people opt out of their own mother tongue at school-. However, the reality is that parents are not informed about the benefit that children derive from learning their mother tongue and there is no variety in languages on offer at former model-C schools. In most schools, the only languages available for use as a medium of learning and teaching beyond grade 3 are English and Afrikaans. We have not seen national effort to educate parents about the value of the mother tongue languages.
Aside from these myths, the truth is that no country in the world has ever reached the highest level of modernity and human capital through the use of a language not understood by the majority of its citizens and exclusion of the local languages.
Second, education is about developing one's sense of self (confidence) and a deeper connection with the world (advancement of cognitive and intellectuals planes through stages of abstraction). In this connection, we should value the languages through which these attributes can best be achieved.
Third, every language is scientific and can add more vocabulary through an ecology of coexistence with other languages.
Fourth, it is beneficial to use all the 11 official languages if language planning is in place. This includes gradual introduction of subjects in selected languages until all children can have an education that is accessible in their mother tongues or languages of the community.
Another important consideration for complex multilingual encounters, where many languages co-exist in the same classroom, is to think about multilingualism as a resource more than a disadvantage.
Languages without the borders are the 21st Century reality. The Hub for Multilingual Education and Literacies at Wits leads on new methods under concepts such as ubuntu translanguaging (no one language is complete without the other) to leverage students' multilingual competence for deeper digestion of content, and affirmation of who they are; these are two ingredients for academic success beyond formal education.
In conclusion, there is a need for a national strategy on incremental use of mother tongue languages as medium of learning and teaching at least up to Grade 6 in the first phase and then other phases. Universities need to lead this process by creating multilingual tutorials as the first step, which will later transfer into choices available for learning through African languages selected by the institutions. Mother tongue based multilingualism is a prerequisite for socio-economic development as it promotes broader participation in the economy and fosters social cohesion.
Leketi Makalela is full professor and founding Director of the Hub for Multilingual Education and Literacies at the University of the Witwatersrand. He holds a distinguished visiting scholar position at City University of New York.