Aspiring academic wins Best Student paper
- Wits University
Curiosity ignited an interest in electrical engineering for aspiring academic, Hlengiwe Mnisi.
"Growing up, I was very intrigued by the whole idea of electricity; how one can flip a switch on and a light would turn on. I was curious how the electricity was flowing from the 'switch' to the light bulb. Little did I know that the electricity wasn't even from the switch", she says.
Mnisi, a master's student in Electrical Engineering was recently awarded the Best Student paper by the International Council on Large Electric Systems (CIGRE) Southern Africa for her paper, Investigation of the application of Dissolved Gas Analysis (DGA) in canola-based natural ester oil under arcing fault.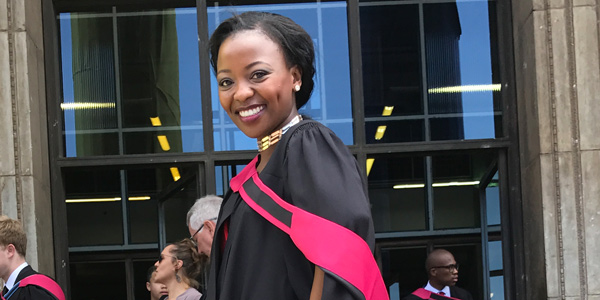 CIGRE is a global community committed to the collaborative development and sharing of power system expertise.
Mnisi's findings indicate that that DGA, a diagnostic tool used in power transformers to detect incipient faults, can be used for new ester oil, which can replace mineral oil due to its excellent environmental properties.
"The availability of a DGA tool for ester oil-filled transformers will ensure that the future power transformers are well equipped with condition monitoring tools, which aid in power infrastructure resilience," says Mnisi.
Although she finds the field of high voltage insulation challenging, getting recognition for her research has been fulfilling.
"I feel absolutely honoured to have won this award. I am grateful for the recognition of my work by the power systems fraternity. This means that my effort to contribute knowledge in the high voltage insulation field is recognised and celebrated."
Her quest to contribute to new knowledge has motivated her to pursue a career in academia. She plans to pursue her PhD in the same field and to offer her skills and expertise as an academic in the School of Electrical and Information Engineering at Wits.
She will present a paper at the 2020 Southern African Universities Power Engineering Conference, which runs from 28 to 31 January 2020.