Visitors flock to architecture exhibition
- Wits University
The Solomon Mahlangu concourse has been transformed into a platform for visionary works.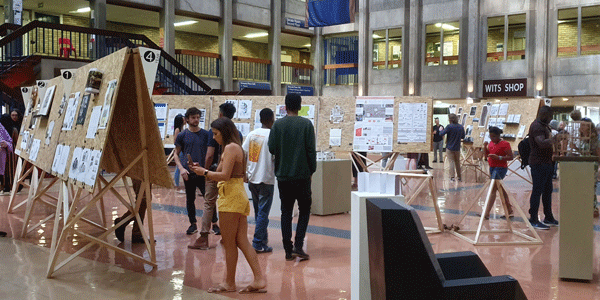 The School of Architecture & Planning is hosting an 'All School Exhibition' in the Solomon Mahlangu Concourse. The work of the architecture and planning students will be on display from 17 November to 5 December 2019.
"This exhibition showcases not just the variety of work undertaken in the School but also the expertise and talent that students have brought to bear to produce it. The projects are displayed together from different years, scales and mediums in order to celebrate the entire output of the School during 2019," says Ariane Janse van Rensburg, Associate Professor and Architecture Programme Director.
The installation was curated by staff and students and they left no loose ends in presenting a professional exhibition.
The stands upon which the work rests were fabricated by a team of talented staff and students, and give sculptural and spatial effect to the work on exhibition.
Keen on promoting collaborative work that simulates the work environment, the assembling of the stands drew on the most junior to senior students working alongside academics.
"Work began on a Sunday and was a great learning experience. The creative energy was essential to the success of this exhibition," expands van Rensburg.
Intentional in design and purpose, the stands were created with recyclable materials that students can use in their design, structures and construction courses in 2020.
The School of Architecture and Planning will celebrate its centenary in 2022, the same year that Wits marks its 100th birthday.
Its contribution is embedded in the built environment of Johannesburg which began as a mining town. Its contribution and relevance continues as it evolves with the changing times.
Potential students interested in a career in the disciplines offered by the School are encouraged to enrol for the free online course titled What do Architects and Urban Planners do? The course if offered through Wits EdX and starts in March 2020.