Scholarships enable postgraduate research with impact
- Wits University
Funding postgraduate studies enables TATA Africa to continue upholding its commitment to uplifting communities.
Nineteen postgraduate students at Wits University were awarded scholarships by TATA Africa to complete their studies. The awards ceremony took place in the Senate Room, Solomon Mahlangu House on 7 November 2019 and was attended by the scholarship recipients and their families as well as representatives from TATA and Wits.
Improving health and healing society
The TATA postgraduate scholarships have enabled students like William Mokone, a second-year PhD student, to pursue research in nanotechnology. Mokone became interested in this field whist completing his master's. With his research, he hopes to apply nanotechnology in renewable energy, solar energy, and technologies like solar cells.
"It is work that is going to make a huge contribution to South Africa and some of the challenges that we are facing as a country," says Mokone. He thanked TATA Africa which began funding him during the second year of his master's. This degree focused on drug design and on how to improve current HIV drugs.
"If it was not for that funding, I wouldn't be able to register for my PhD, because I had a bit of debt," says Mokone. "I appreciate that we are able to pursue the things that are of value."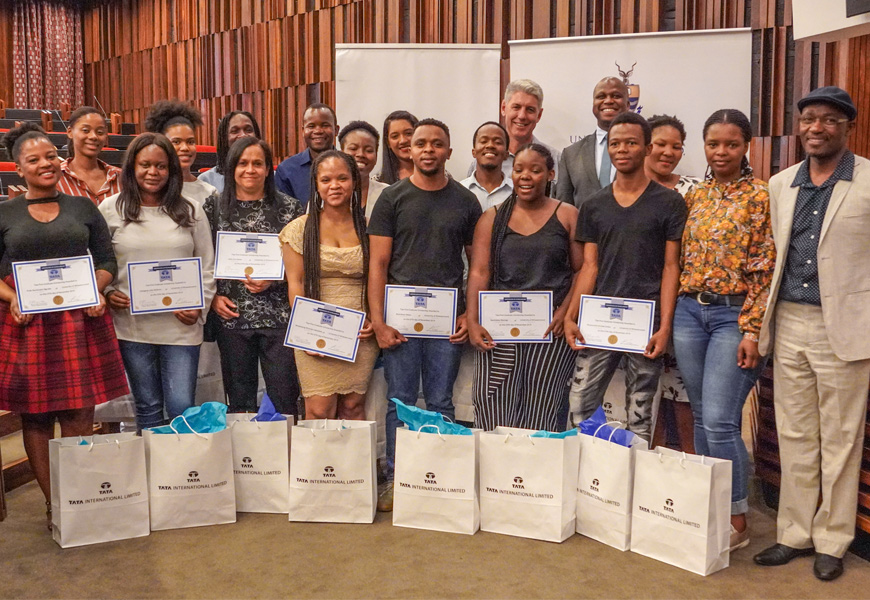 Pride Nombulelo Ngcobo was grateful for the TATA funding, which enabled her to do research that delves deeper into some of the societal ills in the country, such as rape culture. Ngcobo is studying towards a master's in Applied Drama and Therapy. Her research, Critical analysis into the efficacy of oral theatre as a sexual right – education for black adolescent boys in South Africa focuses on young black boys in townships who are rape victims.
"Rape belittles you and men feel they cannot talk about it, that is why they bottle everything inside and take it out on us women," says Ngcobo. "I would like to thank TATA for giving us an opportunity to further our studies. This thank you does not only come from my heart – from my single mother at home, she is saying thank you. My future is saying thank you. The boys I work with are also saying thank you."
An enduring partnership
The relationship between TATA and Wits began in 2006 and to date TATA has donated almost R9 million towards student funding at Wits. Speaking at the scholarship awards ceremony, CEO of TATA Africa, Len Brand said the principle of their business is uplifting communities.
"As we do business in communities, we must do it in such a manner that we sustainably uplift that community. We cannot just go in communities and exploit them. When we are in them, they must get better – that is what we have to do, and in a sustainable manner." He urged the recipients to help others in future and to be social leaders in their communities.
Professor Robert Muponde, Director for Postgraduate Affairs at Wits said the scholarships will elevate "graduateness" at Wits and "will raise the ground upon which our students walk into the future". The scholarships not only nurture talent but also invigorate transformation and aspiration, he said. "The human factor in development is at the core of TATA's giving and Wits' teaching. Together TATA and Wits bring the distant mountain to our feet and help inequities to be flattened so that the very summit of a seemingly daunting distant mountain becomes the playground for all."