The best of 2020 applicants at Wits
- Wits University
Wits University hosted would-be top matriculants for a day on campus.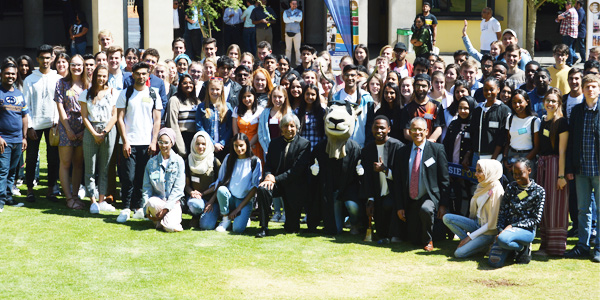 The best of the 2019 matriculants who have applied for first year studies at Wits spent half-a-day on campus getting insight into their chosen careers and their future home.
Hailing from various corners of the country, the matriculants were special guests at the annual 'Top 100 Applicants' event held on 28 September 2019.
The Top 100 have an admission score of 53 to 56 points calculated using final Grade 11 results and it is envisioned that they will produce the same results in their matric finals. Proud parents and guardians accompanied the matriculats to the event to experience the University.
Young academics who graduated from Wits and are now at the frontier of knowledge shared valuable and earnest stories about their experiences as students and professionals.
Biomedical engineer and lecturer in the School of Electrical and Information Engineering Adam Pantanowitz, delivered an inspiring lecture starting from his days as a teen who spent years out of school due to a neuromuscular condition. This set back later became his motivation leading to a career in biotechnology where he now uses the power of technology and innovation to empower people with disabilities.
Dr Dina-Ruth Lulua, a Ugandan-South African raised in various parts of the world first joined Wits as a medical student. Her community service took her to rural areas in South Africa where she had to learn the language of her patients and accept the enormous responsibility of being trusted with the health and hopes of some of the vulnerable communities of our country. This, she says was humbling experience, far more rewarding than what she had imagined whilst in high school fantasizing about starring in a medical show. Lulua is currently an associate lecturer at the Unit for Undergraduate Medical Education at the Faculty of Health Sciences contributing to the success of students.
The day included tailored engagements focusing on the academic interests of the 'future Witsies' and tours around the University. Outstanding matriculats who meet the eligibility criteria will be awarded a scholarship that covers tuition and accommodation. Learn more about Wits scholarships View the gallery with pictures from the day.
#witstop100 Encouraging to see how Wits is teaching and advancing students in AI and machine learning.. hoping to see this spinning over into the SA schools

— Chris Groome (@chrisgr4612_) September 28, 2019