Recapturing memories with a Swedish writer
- Wits University
Per Wästberg, an acclaimed Swedish writer and friend of Nadine Gordimer and of South Africa took guests down memory lane during his talk at Wits.
Wästberg delivered the sixth Nadine Gordimer lecture, which pays tribute to the great late South African writer. Titled Nadine Gordimer and other African writers, the lecture was an odyssey into the life of Gordimer and her encounters with other African writers at the time, and woven into the life of Wästberg, who first came to South Africa in 1959.
Gordimer, who died in 2014, wrote twelve novels, over 200 short stories and several essays "reflecting the vibrations of the country" and "wrote as if censorship did not exist", said Wästberg, who first met Gordimer just after she had published A World of Strangers. In his lecture, Wästberg listed some of Gordimer's novels and their themes, which provided a thrilling guide for readers discovering her work.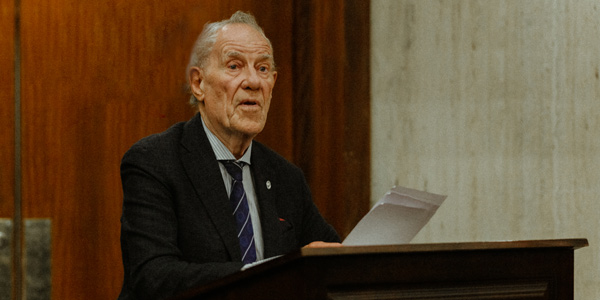 Gordimer and Wästberg's story would not be complete without those of African intellectuals who were part of their journey. Wästberg's lecture brought to life their encounters with Es'kia Mphahlele, Mongane Wally Serote, Oliver Tambo, Jack Mapanje and Yvonne Vera, amongst others.
In his concluding remarks, the 85-year-old Chairperson of the Nobel Prize Literature Committee gave thanks to the continent and the country for eternal gifts.
"Those who so bitterly lacked freedom gave me an experience of freedom that nothing else could have done. Within me, they fed a desire to resist evil, which their faces would always keep alive. The bravest and most clear-sighted people I have met lived and still do live here."
About Per Wästberg
Per Wästberg is a Swedish writer and human rights activist. His association with South Africa began in 1959 when he visited (then) Rhodesia on a fellowship. When he was expelled from the country for his anti-colonial stance, he fled to South Africa, to the home of Nadine Gordimer, and so began a long friendship. The South African government banned Wästberg in 1960, but he visited the region frequently and established lasting friendships with writers and activists.

Wästberg has written novels, poetry and non-fiction. He was formerly President of PEN International and he established the Swedish branch of Amnesty International. Through his work with the International Aid and Defence Fund, he encountered key anti-apartheid activists and helped to channel funds in support of lawyers defending political prisoners. In 2008, South Africa awarded the Order of the Companions of Oliver Tambo in Silver.