Maths whizkid bags scholarship to study at Wits
- Wits University
Talented Grade 12 learner Phila Mahlangu was awarded a scholarship to study at Wits at the 2019 Wits Maths Competition prize giving.
Mahlangu, from Fumana Secondary School in Katlehong, was among thousands of learners from across the country who entered the 2019 Wits Maths Competition (WMC).
Recognised as a notable learner from a Quintile 3 school under the senior secondary category, the maths whiz says his interest in the subject was sparked from an early age as he loved completing difficult puzzles. Mahlangu said the scholarship will enable him to pursue his dream of being an astrophysicist – a new found interest. He expressed his delight over the scholarship prize.
"I won a prize in the Senior Secondary category and it is an honour. This competition is the greatest experience I have had this year and winning means the world to me," he said. Despite the difficulty of the competition, he said the challenge was exciting.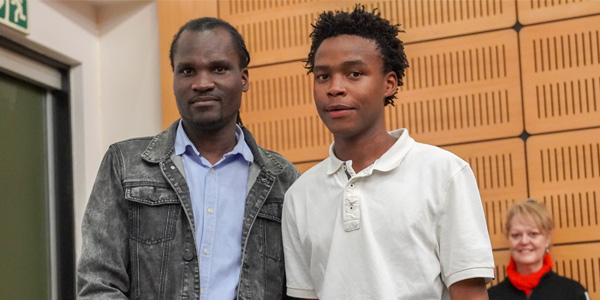 The WMC is an outreach programme that aims to cultivate talent in young people like Mahlangu and to promote science, technology, engineering and mathematics (STEM). The competition was inaugurated in 2018 to contribute to mathematical development in the country. One of the founders of the competition, Celeste Johnston, a PhD Candidate in the School of Physics says the competition is aimed at enhancing the standard of mathematics students, ranging from senior primary phase, through to FET and into the undergraduate phase.
"We believe that the initiative will, in turn, enhance the standard of research in STEM-related fields at South African academic institutions," she said.
Speaking at the prize-giving ceremony on 9 September 2019, Deputy Vice-Chancellor: Research and Postgraduate Affairs, Professor Zeblon Vilakazi, said mathematics is the foundation of all disciplines and that "Wits University has the responsibility to encourage science, technology, engineering and mathematics." Vilakazi added that "mathematics and science are real hope."
The WMC provides an equal opportunity for learners from diverse schools to participate as it is the only Maths competition in the country that does not charge an entry fee, thereby breaking any barriers for talented learners. This gave learners like Mahlangu an opportunity to battle with some of best Maths brains in the country. He entered the competition immediately after hearing about it.
Dr Musa Manzi, one of the founders of the competition said Mahlangu's hard work and consistency throughout the competition earned him the scholarship. "He performed very well for a learner that is self-taught and was therefore a worthy recipient of the scholarship," said Manzi.
The competition has grown significantly since its inception. This year, over 10 300 entries were received as opposed to 2018 when 830 students from 95 schools participated 95. It targets learners as young as those in Grades four up to third year University students.
Vilakazi said this ensures that talent is identified and nurtured as early as possible.
"The greatest mathematical achievements are undertaken at a very young age. It is imperative that you identify talent very early because you look at most of these mathematical discoveries were made by people under a certain age. The earlier you start, you can start germinating that seed."