Healthy and motivated staff bring success
- Wits University
Motivated and happy staff are the force behind great universities says Wits Vice-Chancellor and Principal Professor Adam Habib.
"Great universities around the world are not hard to build, what you require is great staff, great students and you need to give them some resources for them to do their best."
Habib was speaking at the launch of the Mpil'enhle Programme – Itlhokomele, a Wits staff wellness programme that seeks to build a healthy workforce. Staff play an integral role in achieving the University's strategic objectives and realising its vision. They are key contributors to Wits' success and through the Mpil'enhle- Itlhokomele, the wellness of Wits staff is prioritised.
The launch held on Monday, 2 September 2019, was attended by staff from various departments and faculties as well as senior management. View picture gallery.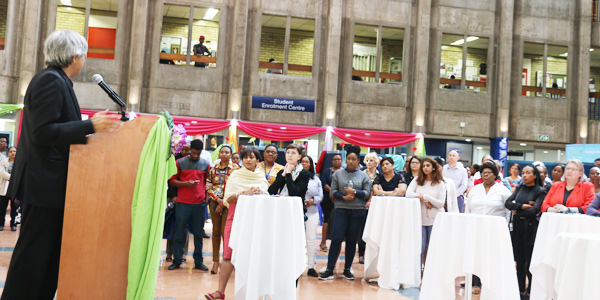 During his speech Habib stressed the importance of building a cohesive institution adding that the programme would also assist to build a more connected Wits where access to essential resources that contribute to health is equitable.
"This (Wits) is a powerful institution in the society and in many ways what we pull off here can then provide the opportunities for the broader society," Habib.
"It is only when we come together as family and as a University community that we can truly achieve and only when we achieve (our individuall and institutinal goals) can this the country achieve."
Mpil'enhle is a hybrid wellness programme that integrates various staff development, health and wellness initiatives hosted across Wits' campuses. The programme aims to enhance the quality of life of Wits staff members by offering essential wellness services that could aid them in being healthier, happier and motivated.
Addressing staff, Dr Kgomotso Kasonkola, Senior Human Resources Director said the programme offers a range of services including a 24hr helpline offered through Kaelo Lifestyle. Staff will have access to free legal advice, financial advice, and trauma intervention as well family counseling support. The counselling services are available in different languages in line with the needs of the linguistically diverse Wits community. The helpline is available to staff and their immediate family members and can be accessed by dialling 0861 635 766​ or *134*928#​ or emailing asknelson@kaelo.co.za.
Kasonkola said managers would also receive training to equip them with effective inter-personal skills amongst other things in order to build better workspaces and relationships.
The programme was launched during the annual Staff Wellness Week offering staff free health assessments. Assessments will be done across Wits' campuses until Thursday, 5 September. Friday, 6 September is Staff Fun Day where Witsies can test their abilities by participating in various sporting codes including indigenous games. The Fun Day seeks to foster social cohesion by bringing together staff from various campuses to interact in a relaxed setting.