Witsies wow as Women in Science
- Wits University
Female Wits academics and students were recognised at the annual South African Women in Science Awards.
The Department of Science and Technology calls for nominations for the South African Women in Science Awards (SAWiSA) annually. The awards recognise and reward excellence by women scientists and researchers, and profile them as role models for younger women.
Two Wits academics and three students were recognised at the 2019 SAWiSA held in Port Elizabeth on 15 August.
Themed: Making the Fourth Industrial Revolution (4IR) work for women, the 2019 SAWiSA honoured women scientists in research areas including the natural (life and physical) and engineering sciences, the humanities and social sciences, and research and innovation. Awards in the latter category were made in areas aligned to the 4IR.
Professor Michèle Ramsay was awarded the Apex Award at 2019 SAWiSA in the category Distinguished Women Researchers: Natural (Physical and Life) and Engineering Sciences. Ramsay, a Professor in human genetics and Director of the Sydney Brenner Institute for Molecular Bioscience at Wits has had a distinguished career over almost 30 years as a scientist, showing sustained excellence in research. She has published over 160 articles in high-quality publications, attracting some 3 000 citations. A leading researcher in genetics, Ramsay served as the president of the African Society for Human Genetics and was involved in establishing Health in Africa (H3Africa). She has been on the steering committee of H3Africe since its establishment, including terms as chair and deputy chair. She has an impressive record of master's, PhD and postdoctoral fellows that she has supervised.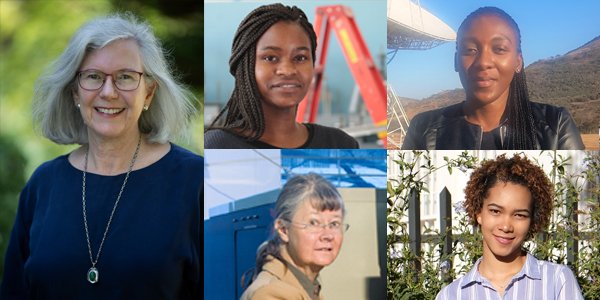 Ramsay said she is honoured to be nationally recognised for her work as a scientist.
"I enjoy what I do as a scientist and academic and it makes me happy to be working at such an exciting time in the field of human genetics. We can do now what we dared not dream of four decades ago. I appreciate the very solid foundation Wits has given me and in particular my PhD supervisor and mentor, Professor Trefor Jenkins."
Ramsay advises young emerging female researchers to make use of the opportunities available to them and to value their work and achievements, and never compromise on excellence. "Don't shy away from opportunities – embrace what comes your way and proudly accept responsibility. Your choices should not be defined by your gender but by who you are. Lastly, find your strengths and nurture them, align yourself with mentors that energise you and if you are in a position of leadership, stand up and embrace every situation."
Professor Lesley Cornish, who was the second runner up in the same category, said she was honoured to be nominated. Cornish, a Professor in Centre of Excellence in Strong Materials, is passionate about the development of young emerging researchers.
"I try to do everything well, whether it's research, teaching or admin. What I do aim for is to develop the students, and get as much out of the research as possible. Since I have been in research for many years, I have several topics that I have been working on, and so I know where the gaps are, and what to study next. I try to publish as much as possible with my students, and we try for the best journals that we can. I also like to ensure that every paper that is submitted is the best it can be."
"I was nominated by Wits, which is already an honour, and then to get the actual recognition is wonderful! This means that Wits thinks that what I am doing is worthwhile, and so does the Department of Science and Technology."
At the Awards, a fellowship worth R70000 was awarded to Nokwazi Maphuti, a PhD candidate in Physics. Her research focuses on the use of extra-ordinary properties of light, commonly known as structured light, to improve the efficiency of a lunar laser ranging system currently under development in South Africa.
Simone Asheligh Smith was awarded a SAWiSA DST-Albertina Sisulu master's fellowship. Smith is pursuing a master's degree in Molecular Medicine in the HIV Pathogenesis Research Unit at Wits. She says the fellowship will contribute to her development as a young researcher.
"It is amazing to have been recognized for the SAWiSA DST-Albertina Sisulu fellowship, an award that supports the upliftment of women in science. Representation is very important and has a significant impact on a young researcher like myself. This award motivated me to keep pushing and work hard at what I do, knowing that women do have a place in the field of science."
Mokgadi Nchabeleng, a master's student in Geotechnical Engineering, was awarded the TATA Scholarship worth R88 000. "I am grateful and honoured to have been awarded the TATA Africa Master's Scholarship in Engineering. Such an esteemed award inspires me to continue to strive for excellence in my studies. It offers me the opportunity to further advance my knowledge and skills in geotechnical engineering, for which I am grateful."