New beginnings for staff wellness at Wits
- Wits University
Wits will step into spring with the launch of a new staff wellness programme, set to reshape the understanding of wellness in the University.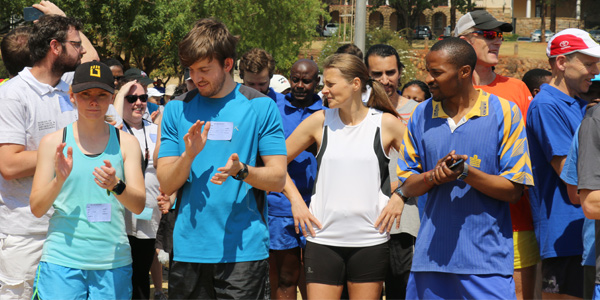 Named Mpil'enhle Programme, meaning good life in IsiZulu, the initiative brings a holistic wellness programme for staff and aims to integrate all initiatives implemented by Wits and expands wellness beyond the traditional week of activities. It carries a Sesotho tagline, Itlhokomele meaning 'take care of yourself'.
To be launched on 2 September during Staff Wellness Week, the programme offers two key benefits – a mental health support service and a centralised wellness calendar.
Mental health is a growing global challenge and a feature of modern life. Two recent surveys published by Profmed indicate that work stress and financial stress were two of the factors that impact the mental health of South African professionals. Depression, which is a mental health issue, is one of the leading causes of disability, according to the World Health Organisation. Subsequently, mental health is receiving close attention at Wits and through Mphil'enhle the staff will have ease of mind knowing their mental health is prioritised.
Under the Mpil'enhle Programme, Wits will offer staff a free 24-hour helpline managed through its partner Kaelo Lifestyle. This free and confidential helpline is open to all Wits employees regardless of medical aid membership. Staff will have the option to access a range of services for them and their immediate familes with telephonic and face-to-face counselling, financial and legal advice.
Wits currently offers a range of wellness services and programmes through numerous facilities, training workshops, clubs and societies. However, finding information about these services has been a challenge and largely depends on an individual's access to information. The Wellness Calendar will make it easy for staff to identify and find wellness services, activities and resources that cover aspects of self-development, emotional, financial, physical and environmental wellness.
The delivery of the Mpil'enhle Programme is the collaborative work of several departments under the leadership of Professor Ruksana Osman, the Deputy Vice-Chancellor: Human Resources, Advancement and Transformation. The programme is the outcome of the Wits Employee Wellness Strategy and Framework as well as the work of the Wits Wellness Forum, which was established in 2017.
The launch on 2 September takes place during the annual Staff Wellness Week , a week that features free health screenings for staff, social and physical activities that bring Wits staff together such as the Lenn Smith Race and the Staff Fun Day.