Africa's youth can drive economic prosperity
- Wits University
Young people in Africa have the potential to drive economic prosperity on the continent says US Diplomat, Ambassador Tibor Nagy.
Speaking at Wits on 22 June 2019 during Youth Month, Nagy said that one the US Government's policy priorities in Africa include harnessing the potential of young people in Africa.
"We must harness the potential of Africa's tremendous youth population to drive Africa's economic growth and create real prosperity and I call this the Youth Tsunami, which is getting ready to wash over Africa between now and 2050."
The diplomat, who first set foot on the continent in 1978 visited Wits to deliver a speech on the US Policy on Africa. He was hosted by the US Embassy in South Africa and the African Centre for the Study of the United States.
His speech and visit sought to reinforce America's unwavering commitment towards Africa. The US and Africa continue to build and enhance their diplomatic relations through a number of initiatives, including the promotion of stronger trade and business ties that can benefit people of both continents. Ambassador Nagy said America took great interest in the economic development of Africa.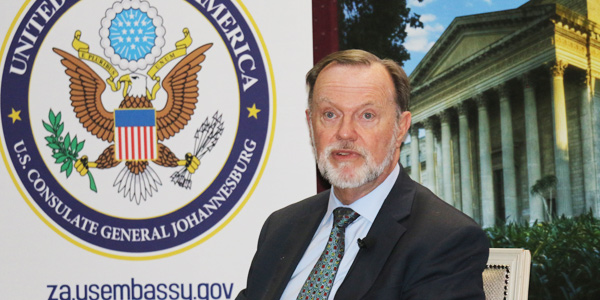 "We have been the largest source of foreign direct investment in the last 13 years. Over 500 American companies are active in South Africa accounting for an estimated 10 percent of GDP and over 200 000 jobs. The hallmark of American companies is that they are employing South Africans for good jobs, transferring skills and developing talent. All the while improving the competitiveness of South Africa in the global economy. This US interest in deepening trade and investment ties in South Africa extends throughout the region and as well on the continent," said Nagy.
In an effort to promote trade and investment between the two continents, the US government recently unveiled the Prosper Africa Initiative, which seeks to increase two-way trade on goods and investment between America and Africa. "Prosper Africa will help expand a number of commercial deals between US and Africa counterparts and promote better business climate and financial markets on the continent."
While trade and investment are important for economic development, it is through young people that Africa will prosper said Nagy, reiterating the role of young people in contributing to the advancement of the continent. He added that to secure Africa's future, "governments, businesses and education institutions must unite in nurturing the next generation", by providing adequate training and education opportunities for young people on the continent.
"We have seen time and again that investing in education is the best way to invest in the future. Africa's population is expected to double by 2050 to around 2.5 billion people, where 60% will be under the age of 25. We must find ways to ensure that the youth have the education and training to enhance employment opportunities."
There is no better way to demonstrate the US commitment to Africa than through our investment in its most important resource, its people. We have and we will continue to invest in people, and build partnerships that promote better health, jobs, skills, education, opportunities and security. This is an exciting time to be in Africa. The dynamism of Africa's youth is prevalent and apparent everywhere you look."