Historic partnership between universities and the City
- Wits University
The City of Johannesburg has signed a Memorandum of Understanding with three of South Africa's top universities - Wits University, Unisa and UJ.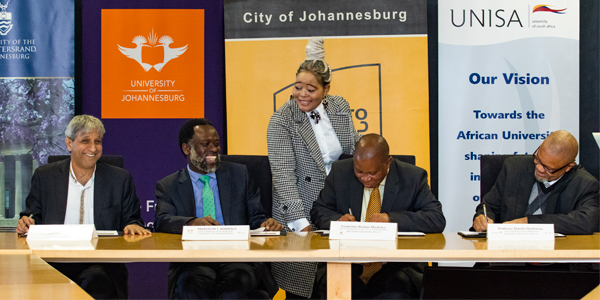 The signing on Wednesday, 5 June 2019, commits the parties to collaborate as equal partners on a range of strategic and operational interventions.
The City and the universities are public institutions with the common purpose of creating a public agenda that empowers citizens and creates positive spatial, social, economic and environmental outcomes for Johannesburg and its citizens through interventions that promote desirable places for citizens to live, work, play and visit.
Speaking at the ceremony Herman Mashaba, Mayor of the City of Johannesburg, said this partnerships paves way for the City to fulfil its strategic priorities which includes driving a 5% economic growth by 2021, ensure pro-poor development, enhance service delivery and financial sustainability, ensure public safety, fight corruption and preserve future resources for generations.
Wits Vice-Chancellor and Principal Professor Adam Habib said he was excited about the coming of the two institutional mechanisms that have the ability to address inequality "in a way that nothing else can."
Metropolitan governments and universities are key to addressing inequality, said Habib.
Singapore and Sao Paulo were cited as some of the successful examples of university-municipality partnerships that have enabled cities to flourish and break inequality among citizens.
In his speech, Habib stressed the importance of viewing universities as a system rather than individual systems. "Think of us as a system, we play different roles as universities, but together we can create the most successful knowledge system."
"The three universities produce the highest amount of research in the country if measured using geographic space. This research, if applied then we can resolve the collective problems of our society," Habib.
Unisa's Vice-Chancellor and Principal Prof. Mandla Makhanya also spoke about the importance of harnessing the institutions' intellectual power adding that "the signing of this MoU is very important to us, this is a win-win situation that will have a far reaching impact for our students and residents."
Professor Tshilidzi Marwala, Vice-Chancellor and Principal hailed the partnership as groundbreaking.
In addition to the intellectual muscle brought by the three universities, these institutions represent nearly 500 million students who contribute to the socio-economic vibrancy of the City and thus key to the fulfilment of the strategic objectives of the city.
Parties Commit to:
The Signing of the MoU will commit parties to collaborate as equal partners on a range of both strategic and operational interventions with the following objectives:
•to develop and advance the common goals and strategic vision of the City ofJohannesburg and the universities,
•to jointly and proactively respond to the needs of the City and its citizens,
•to acknowledge the role of the universities as inter alia major investors in theCity,
•to integrate social, economic, environmental and governance considerations inall collaborative initiatives,
•to advance the sharing and transfer of knowledge and innovation throughmechanisms for systematic and sustained engagement at the highest practicallevel, and
•to commit themselves towards establishing Johannesburg as a centre ofexcellence for higher education in Africa, and especially in southern Africa.
Nine Strategic Priorities for the City
• to promote economic development and attract investment towards achieving 5% economic growth that reduces unemployment by 2021,
• to ensure pro-poor development that addresses inequality and poverty and provides meaningful redress,
• to create a culture of enhanced service delivery with pride,
• to create a sense of security through improved public safety,
• to create an honest and transparent City that fights corruption,
• to create a City that responds to the needs of citizens, customers, stakeholders and businesses,
• to enhance our financial sustainability,
• to encourage innovation and efficiency through the Smart City programme, and
• to preserve our resources for future generations.