China beckons Limpopo fellow
- Wits University
Spreading his wings through international exposure - Thabiso is the first Witsie to be awarded the prestigious scholarship.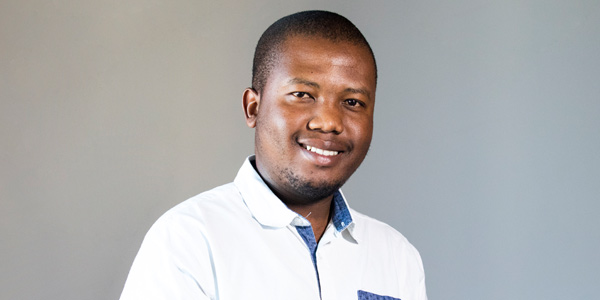 Growing up in Luckau, a village in Limpopo, Thabiso Mphilane never imagined that he would one day find himself among a select group of students heading for Yenching Academy in Peking University, China.
Mphilane has been awarded the prestigious scholarship by the Academy where he will read for his Master's in International Relations and Politics. The scholarship attracts applications from top tier universities across the world and Mphilane is the only South African in the 2019 cohort.
The Yeching programme is designed 'to cultivate leaders who will advocate for global progress and cultural understanding'. International students comprise around 80% of the student population.
For Mphilane, China is the ideal country to further his studies.
"China is a rising global power and I am intrigued by its policies both at national and international level."
"They are doing very well on many developmental indicators. As such, learning directly from them would put me as a competent candidate either as an ambassador of South Africa to China or working in large scale projects within South Africa and the continent. For instance, there are mines operated by Chinese companies in my home province Limpopo where I could advance meaningful development and cooperation," says Mphilane.
While the future is promising for the aspirant diplomat, growing up was less so.
Mphilane was raised by his grandmother after losing his mother when he was 11 years old. He was fortunate that his school was classified by the government as a no-fee paying school meaning that learners from impoverished backgrounds would have access to education. However, the rural setting meant that resources were scarce at the school had very limited information about careers and university applications. This saw him take a few detours before finally enrolling for a Bachelor of Arts degree at the University of Johannesburg.
Once at University he made up for lost time by engaging in several extra-curricular activities which saw him travel to Asia and also participate in the Young Africans Leaders Initiative (YALI, 2017) sponsored by USAID.
He joined Wits University in 2018 to pursue a Bachelor of Science Honours degree in Geography.
He believes in active citizenship and is involved in mentorship programmes aimed at boosting student academic success and works as an intern in the Graduate Recruitment Programme located in Wits' Counselling and Careers Development Unit (CCDU).
"The experience at CCDU has been truly magnificent and it will make me a rounded scholar and a better person when I arrive in Beijing."
Between now and when his departure in September, Mphilane is working hard to secure funds for his study permit documentation and money to carry him over until his stipend allocation in October.
"It is still so surreal to date that I am one of the selected scholars," he quips.
"This could have not been possible without the help of my 2018 Supervisor Professor Mulala Simatele from the School of Geography, Archaeology and Environmental Studies (Wits) and Dr Venessa Damons from the Academic Development Centre who supported my ambition for an international education (UJ)," concludes Mphilane.