Building an inclusive circular economy: Recycling with reclaimers
- Wits University
A Johannesburg-based pilot will formally integrate reclaimers (waste pickers) into the recycling economy of South Africa for the important service they provide.
On World Environment Day, observed on 5 June 2019, Unilever South Africa, the African Reclaimer Organisation (ARO) in partnership with Wits University announced their upcoming pilot project: 'Building an inclusive circular economy: recycling with reclaimers. The Johannesburg-based pilot will formally integrate reclaimers – also known as waste pickers – for the important service they provide and is designed to demonstrate the benefits reclaimers provide with their separation at source services.
The recycling rates across South Africa are on the rise, due to the great focus on recycling by government, industry, reclaimers, corporates and conscious consumers. The latest statistics released by the national industry body PET Recycling Company (PETCO), have shown that, "98 649 tonnes of post-consumer PET plastic bottles were recycled in 2018 alone (a 6% increase from 2017), saving 612 000 cubic metres of landfill space and lessening the country's carbon emissions footprint by 148 000 tonnes. An average of 6.2 million PET plastic bottles were collected for recycling across South Africa every day last year, creating 68,000 income-generating opportunities for small and micro-collectors."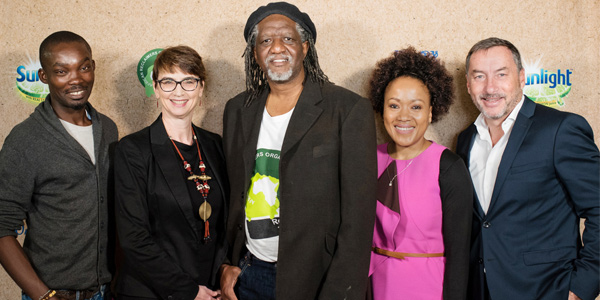 The announcement was made at a panel discussion which key stakeholders including the Department of Environmental Affairs, the City of Johannesburg Metropolitan, the recycling industry (Packaging SA) as well as project partner representation from consumer goods company (Unilever South Africa), ARO, WIEGO (Women in Informal Employment, Globalizing and Organizing) and Wits. Hosted by ARO members (reclaimers), the discussion explored the impact reclaimer integration could have on South Africa's 'circular economy', a restorative and regenerative model where materials constantly flow around a 'closed loop' system, rather than being used once and then discarded.
The panelists reviewed the industry wins and also discussed a major gap within the South African circular economy – which is the need to recognise, support and value the 60,000 – 90,000 informal reclaimers who sift through waste to salvage the recyclable materials that many throw away. These reclaimers earn their livelihood by collecting and selling recyclable material to recycling companies and together, collect approximately 80-90% of postconsumer paper and packaging collected in South Africa for recycling companies to reuse and have extended the life of landfills and saved municipalities up to R750 million a year in landfill airspace.
Dr Melanie Samson, Senior Lecturer in the Wits School of Geography, Archaeology and Environmental Studies said that "reclaimers are already central to the recycling economy. Integration isn't about bringing them in; rather it is about integrating reclaimers into our understanding of the recycling economy."
Samson says that the pilot project is significant as it is the first time that reclaimers will be paid. "This is the first concrete step to implement the Guideline on Waste Picker Integration for South Africa," she added.
The core aim of the pilot project, headed up by ARO and due to launch in September 2019, is to work closely with reclaimers and residents in the Brixton and Auckland Park communities to demonstrate that reclaimers can provide an efficient, cost effective separation at source service. The project will aim to increase collection rates of recyclable material from households and offices, improve the livelihoods for the reclaimers through recognition and compensation for their collection work, as well as overall community behaviour change on waste management and perceptions of reclaimers.
Unilever has collaborated in this pilot because they believe in the long-term opportunities for building a more inclusive circular economy. Luc-Olivier Marquet Executive Vice President of Unilever South Africa said that "the backing and funding of this pilot project forms part of Unilever's Sustainable Living Plan (USLP) that has ambitions to reduce the company's environmental impact by half by 2030 (across various areas including Greenhouse gases, water use, waste & packaging as well as sustainable sourcing)," he added that "Unilever has committed to 100% reduction in our single use plastic packaging by 2025, with our flagship brand, Sunlight Dishwashing Liquid, leading the way for this ambition having recently launched their 100% recycled and recyclable bottles."
Luyanda Hlatshwayo, Reclaimer and Organising Committee Member from ARO, said, "reclaimers work long hours in tough conditions to collect recyclables. But we receive only a small income from the sale of the materials we collect. We believe that if reclaimers are recognised and compensated for our collection work, and if households' separate recyclables from their waste, we will together achieve higher collection rates of recyclable material as well as improved livelihoods for reclaimers. We hope this project will be the start of a leap forward for reclaimers."
In addition to funding the reclaimer service fees Unilever and Sunlight will be focused on supporting the reclaimers and ARO in the ongoing need to educate and encourage the pilot project communities to play their part in sustainability practices and to support the project. The long-term benefits and goals for Unilever are to encourage South Africa to recycle and understand the role of reclaimers to help drive the system forward in order to increase recycling while reducing waste to landfills.