Accounting stars celebrated
- Wits University
The School of Accountancy celebrated the excellent results of its top students.
Outstanding Wits accounting students and alumni were urged to keep the highest ethical standards in their profession at the annual School of Accountancy (SOA) prizegiving.
The event, which was held on 3 May 2019 at Sturrock Park was testament to the excellence demonstrated by the school. The event, which aims to reward outstanding and hard-working students, brought together professional bodies, public sector representatives, industry leader, various sponsors and proud families.
Speaking to aspiring Chartered Accounts at the event, Head of School, Professor Nirupa Padia said as academics, it is their responsibility to equip students with the necessary skills and knowledge to ensure success in their new careers. This also included educating students about good ethical behaviour and practice. She urged them to uphold the professions code of conduct at all times and to strive to be credible and morally sound individuals who put the societal interest first.
"You are representing not just yourself, not just your institution but the profession and for us to be known as a trustworthy profession, it has to be based on a foundation of ethics. I urge everyone sitting here to see how they, in every smallest way can emphasise ethics. If the profession has lost trust, we do not have a profession anymore."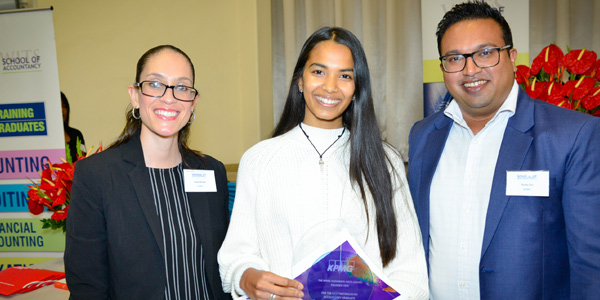 One of the top achieving students, Eleanore Angeliniadis said it is essential that she join a company that inspires her to be an ethical person. Angeliniadis completed her Honours degree in Accounting at Wits last year. She is currently completing her articles at Allan Gray. She came fifth in the national Initial Test of Competence (ITC) professional examination in January and was one of two Wits students in the top ten. SOA achieved an 84% pass rate, higher than the national pass rate of 71%. Having graduated with distinctions for both her Bachelors and Honours degree, Angeliniadis attributes her achievements to her passion for the field, hard work and consistency.
Another proud achiever, Mishka Naidoo, was delighted to be rewarded for her hard work. She is the recipient of the KPMG prize and numerous certificate prizes. The KPMG prize is awarded to the Bachelor of Accounting Science student who earned the highest marks in the third year of study and passed all the required courses at the first attempt. Naidoo, who is pursuing an honours degree in accounting, also shared the same sentiments on ethics noting that to be credible in the industry, one needs to be trustworthy.
"People trust us to make sure that their financial statements are fairly presented. If you cannot trust someone then there is no basis to the industry. It is important to be an ethical person and to do the right thing, especially when you are in a position of power," she said.
The Wits School of Accountancy (SOA) has a Level 1 accreditation status, the highest level of accreditation awarded by the South African Institute of Chartered Accountants (SAICA). It takes pride in its quality of teaching and the high calibre of graduates and professionals it produces.
Aside from its academic achievements and quality teaching, SOA is a leader in driving transformation in the sector. The School was ranked third nationally in the number of African candidates who wrote the ITC. Through its various transformation initiatives, SOA achieved an 80% pass rate amongst the African candidates who wrote the ITC, exceeding the national average of 56%.
The prestigious event was attended by all key stakeholders of the accountancy profession and has become of an annual event for these stakeholders to interact.