Wits Dining Halls wrap-up Africa Month
- Wits University
Flavours from the continent have featured more prominently on the plates of students this month in celebration of Africa Month.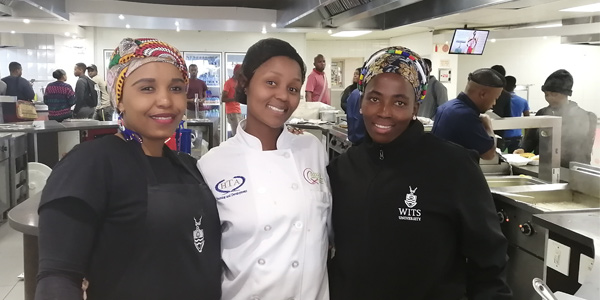 Wits Services, which operates dining halls on campus, offered various dishes from countries in Africa to educate students about the flavours of Africa.
Wits has six dining halls across campuses, which serve students who live in Wits residences and day- scholars who sign up for lunch meals on campus. They include local and international students making dining halls an ideal platform to teach Witsies Africa facts.
Of the countries featured, Malawi-style fish curry was the most popular amongst students.
Bontle Mogapi, operations manager responsible for dining halls, says food is great way to deepen appreciation and knowledge about each another.
"We've used food to create awareness about Africa's resources below and above the ground. Each country dish was accompanied by facts about that particular place, as well as music to add to the ambience".
The television screens at dining halls featured African proverbs while the @WitsServices twitter account was used for quiz competitions.
To wrap-up Africa month, staff across the dining halls donned their traditional attire – a vivid display of diversity.
Wits Services has prepared approximately 150 000 meals this year, with lunch and supper being the most popular amongst students.
Mogapi says, "We try to be relevant to our students. Our eating spaces are more than just where we prepare and serve food. We strive to support the University's mission and feed both the mind and body of students".