Top 20 newbies
- Wits University
Recipients of the Vice-Chancellor's Scholarship a delightful mixed bag.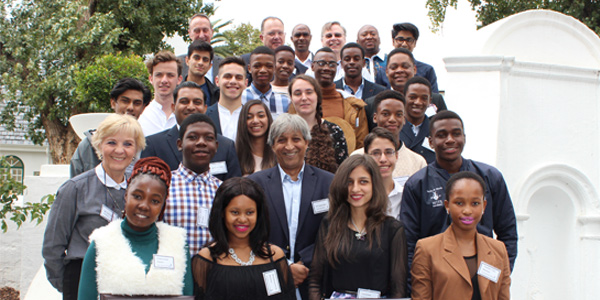 Professor Adam Habib hosted a breakfast to celebrate the achievements of top matriculants who have enrolled at Wits this years.
The 20 outstanding first years are "the best of the best" in an institution brimming with talent, and join an elite cohort of learners who are awarded the prestigious scholarship.
"To be in the top 20 at Wits is an incredible achievement" said Habib in his opening remarks to the parents, guardians and school principals at the ceremony.
Commenting on the 2019 cohort Habib said he was pleased at the demographics of the group as well as the diverse academic programmes being pursued by the recipients. The scholarship also saw new schools rising to claim their seat at the table.
"This is a reflection that our society is maturing," said Habib.
Wits University has a range of scholarship varying in amounts aimed at top performing matriculants.
The Vice-Chancellor's Scholarship is one of the oldest scholarships aimed at Grade 12s and was dominated by well resourced former Model-C schools and private schools.
Realising the discrepancies in the education system where well resourced schools are able to out-perform disadvantaged rural and township schools based on available economic resources that enable additional academic support for learners, Wits University established the Equality Scholarship in 2014.
The Equality Scholarships were created to assist talented learners from marginalised communities, who despite learning in deprived environments often with inadequate learning and teaching support, produce excellent academic results. These are awarded the top 10 learners from Quintile 1 and 2 schools who choose to attend Wits.
Both the VC's scholarship and the Equality Scholarship are worth approximately R150 000 per annum and are for the duration of the recipients' undergraduate degrees, provided that they continue to excel.
Another tier of scholarship exists for matriculants who excell - the University Entrance Scholarships is awarded to students on the basis of the NSC admission point score (APS). Gifted sportspersons are eligible for the Sports Scholarship.