Gauteng Province releases prime property to Wits for development
- Joint Statement
The Gauteng Provincial Government has signed a Memorandum of Intent with Wits for the release of properties to meet student housing and research needs.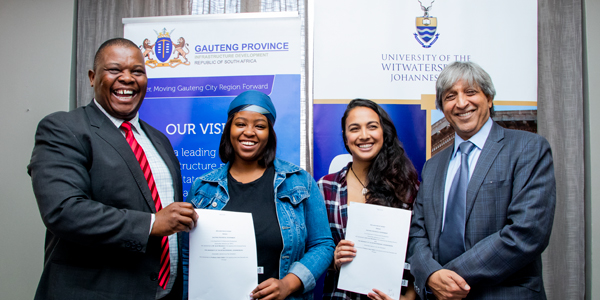 The five properties are around Constitution Hill and are part of the Gauteng Provincial Government Rapid Land Release Programme.
The agreement which was signed by the MEC for the Department of Infrastructure Mr. Jacob Mamabolo and Wits Vice-Chancellor and Principal Professor Adam Habib paves the way for the University to conduct due diligence process and feasibility studies, including a financial model, that will see the buildings transformed to meet their institutional needs.
Speaking at the signing ceremony held at the University this morning (30 April 2019) Mamabolo said the signing of the agreement was an important milestone in the journey of the establishment of a student accommodation precinct in the heart of the City of Johannesburg.
"We are releasing these properties towards the spatial transformation of the area around Constitution Hill. These properties will help us change the space economy of that area and allow us to bring back these buildings of government to drive the economy," said Mamabolo.
The buildings in the Constitution Hill Precinct (the Transwerke /Queen Victoria Hospital, Nurses residence on Precinct Road and the TMI building) will be developed for student accommodation. The Old Pathology Hospital and The Florence building will be the home of a health and research precinct.
"With this partnership between the Provincial Government and Wits we are leading a way and setting a benchmark using the precinct model of development as the best way to optimise land and space," Mamabolo added.
Professor Adam Habib said that the partnership between Wits and the Gauteng Provincial Government was an important one in addressing the challenges faced by institutions of higher learning.
"If we are ever going to resolve the student accommodation challenge, then it can't be done institution by institution, it requires a systemic solution. I want to thank the Gauteng government because they recognise that stakeholders across the public divide need to collaborate," said Professor Habib.
Wits SRC President Sisanda Mbolekwa said this is an emotional moment for her following year-on-year requests from students for more housing.
"This a very overwhelming and historic moment of what can be achieved when different stakeholders work together. We thank the government and the coming to the party," said Mbolekwa.