Show us your science
- Wits University
Do you have what it takes to explain a scientific concept in three minutes?
The popular international FameLab science communication competition, dubbed the "Pop Idols of Science" will be once again hosted at Wits this year in April. The competition consists of a one day science communication training workshop and one day of presentations for the competitions (called the Heat), where students will compete against each other in presenting their research in a fun, interactive and informative way to the general public.
The focus of the competition is to explain a scientific concept (or research) in three minutes to a general audience.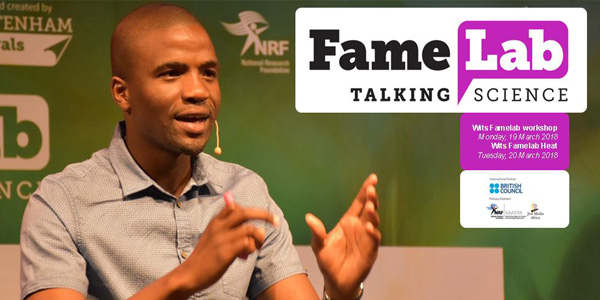 The Wits FameLab workshop is scheduled to take place on Wednesday, 3 April 2019, in Senate Room, 2nd Floor, Solomon Mahlangu House Braamfontein Campus East and the Heat will take place on Thursday, 4 April 2019, also in the Senate Room.
The training is free of charge and will contribute to the personal and professional development of entrants. The semi-finalists of the Wits Heat will go through a regional competition, after which they might advance to the national Heat, and stand the chance to represent South Africa in the international finals. Semi-finalists of the regional competition will also receive additional training in a communications master class, presented by experts in communication techniques in order to train them in oral expression to improve their communication skills.
Who is eligible to enter?
The competition is open to students between the ages of 21 and 35 (more focused on postgraduates, but can also be undergraduates). The focus of the competition is on the communication of Science, Technology, Engineering and Mathematics (STEM), so anybody in that field will be allowed to enter.
This promises to be an opportunity for entrants to gain great experience and skills in communicating their research.
Should you wish to enter, please send your details to Kelebogile Tadi at Kelebogile.Tadi@wits.ac.za by Friday, 22 March 2019. Please include the following information:
Name:
Date of Birth:
Discipline / Field of expertise:
Study level:
Email address:
Telephone number:
More information on the competition can be found on the FameLab website.