Top spots for Witsies
- Wits University
Wits students win the country's premier budget speech competition for the second consecutive year.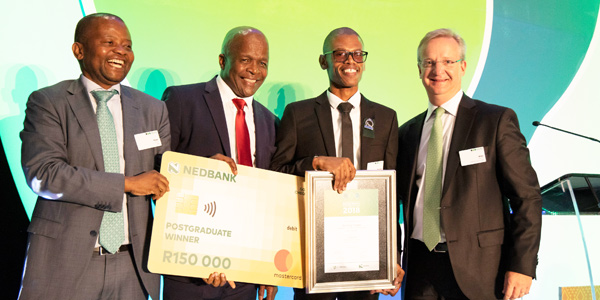 Winners of the Nedbank Old Mutual Budget Speech Competition were announced at a gala dinner following the 2019 national budget speech by Minister Tito Mboweni. Masters student Baneng Naape was crowned winner of the postgraduate walking away with R150 000 while fellow Witsie Cayleigh Brink snatched third place and a cash prize of R50 000.
The highly competitive competition draws entries from students registered for an economics course at any recognised South African institution for higher learning, including the Military Academy and the Universities of Technology.
As in previous years, students from the Wits School of Economic and Business Sciences dominated the postgraduate category with five Witsies among the 10 finalists.
Penning an award winning economic essay came with a lot of research says Naape who aspires to be the best public sector economists in South Africa.
"I read as many articles as possible related to fiscal credibility, then had an idea of what fiscal credibility entails. I paid attention to structure, content and arguments and displayed unique creativity," says Naape.
This same formula and a high dose of current affairs served him well in preparation for the panel interview in Cape Town with competition organisers and experts from various sectors.
Brink who is an intern at Deloitte says she was 'shocked to be placed in the top among so many talented contenders'.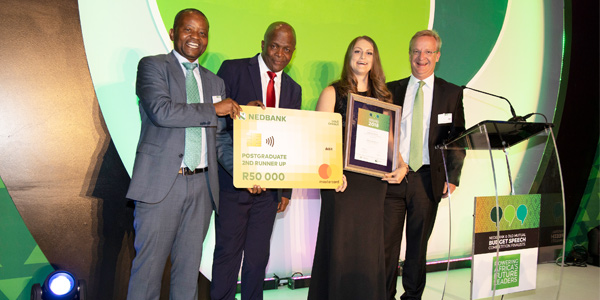 Speaking about her experience Brink said the opportunity was invaluable.
"I think this competition really pushes you out of your comfort zone and teaches you a variety of new skills, from speaking in front of cameras and the media, to networking with high profile individuals. It is an experience I will never forget and I recommend that all economics students take a chance and enter."
During the three day trip to Cape Town finalists had the opportunity to go to parliament and watch the Finance Minister deliver his speech. The gala dinner was attended by, amongst others, the Deputy Finance of Minister, the Governor of the Reserve Bank, Members of Parliament, Trevor Manuel, Maria Ramos and executives from both Nedbank and Old Mutual as well as captains of industry.
2019 entries are now open and close on 25 June.