Wits graduates snapped-up by industry
- Wits University
97% of employed Wits graduates found employment within 6 months of completion.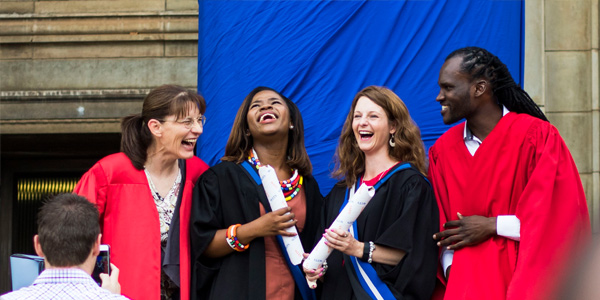 The Wits Graduate Exit Survey (WGES), which seeks to determine the employment status of Witsies, has revealed that a high number of the University's graduates secure employment with relative ease.
The survey targeted Witsies who were capped at graduation ceremonies between March 2017 and July 2018. Nearly 14 000 attended graduation during this period of which around 6000 responded to the survey.
How long does it take graduates to find employment, do the posts match their field of interests, and where are they employed?
Findings:
Of those employed (52%), 97% secured employment within six months of completing their qualification at Wits
Of the above, 67% found employment during their studies or prior to completion – 26% within three months and 4% within six months
60% of respondents are in professions directly related to their field of study while 17% are in somewhat related fields
97% of employed humanities graduates secured employment within six months, defying the perception that humanities skills are not in demand
"These findings are gratifying and reflect the quality of a Wits education. Our mission is to produce graduates who have relevant content knowledge, are also able to engage with the changing world, and can apply their knowledge in various settings," says Professor Andrew Crouch, Deputy Vice-Chancellor: Academic.
Download the Graduate Exit Survey presentation.
First degree a stepping stone
The knowledge economy requires that individuals become specialists and build on their first qualification to remain competitive:
29% of the respondents were furthering their studies through fulltime or part-time studies
Females constitute 62% of those studying further
Males continue to dominate in the Faculty of Engineering and the Built Environment (EBE), whether in enrolment or graduation numbers. At 10%, EBE has the lowest number of graduates pursuing further studies and males constitute 65% of those who are studying further.
53% of graduates surveyed from the Faculty of Science were pursuing further studies, with employability increasing with a postgraduate qualification.
Interestingly, 72% of all those surveyed who are furthering their studies had completed their previous qualification within the specified time. This shows a correlation between the length of time it takes to complete and intention to study further.
"A majority of undergraduate who are studying further once again elected to study at Wits. This 90% of undergraduates advancing their studies at this institution is testament to the high student satisfaction levels with the Wits academic experience and staff expertise," says Crouch.
"It is widely accepted that students who study further have a better understanding of what they seek in life and use more informed assessment criteria in choosing their academic home. The high number of Witsies who return to study at Wits is a badge of honour," Crouch.
Wits University is developing a culture of further learning among its students in line with global trends and the desire to support the continent's development ambitions. There is definitely a shift in the number of people pursuing postgraduate studies, raising the aspirations of the continent.
The private sector continues to be the largest employer of Wits graduates with 51% of those surveyed stating that they are in this sector. Government employs 31% while 4% of respondents are in civil society and self-employed.
Traditionally South Africa's total entrepreneurial activity is low compared to other developing nations. Only 1% of graduates indicated that that they are self-employed. The University seeks to grow the number of Witsies who consider entrepreneurship as a viable employment option at a very early stage. As of 2019, all Wits programmes will have an element that promotes entrepreneurship in addition to the existing initiatives such as the Centre for Entrepreneurship and incubators at Tshimologong.
Summary
Overall, 52% of the respondents were employed of which 97% found employment within six months of completion, 29% were furthering their studies and the 19% unemployed includes teachers, doctors and other professionals awaiting internship placement by the government.