New Chancellor praises lionesses of Africa and calls for greater recognition of female leadership
- Wits University
Wits' newly installed Chancellor, Dr Judy Dlamini, has taken a strong stand for women in leadership positions in South Africa, during her acceptance speech.
Speaking during her installation on Saturday, 1 December 2018 as the Chancellor of Wits University , and the first ever women to act in this position, Dlamini said all institutions in this country need to do more to recognise female leadership, and that failure to do so is abuse, and tantamount to murder.
"Ignoring women's contributions to different spheres of our lives, ignoring their talent, paying them less and refusing them leadership positions when deserved, is a form of abuse which is no less than killing. Eroding people's dignity and their self-confidence is tantamount to killing their soul and dignity, which, in my view, is worse than physical abuse," said Dlamini.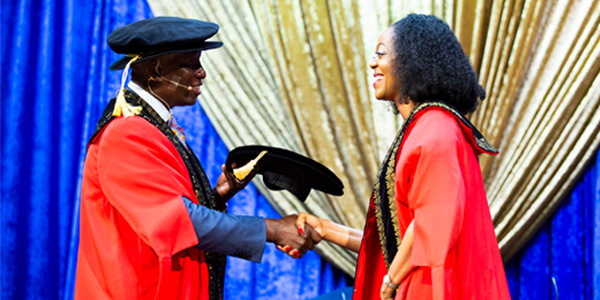 "Gender democracy, gender consciousness that validates women in the eyes of others, gender consciousness by both men and women, is what we need. Our contribution and talent needs equal recognition ... We fought racial supremacy, we need the same ball of energy by all genders and races to fight and defeat gender supremacy."
Honouring women leaders such as her mother Rita Dlamini, Albertina Sisulu, Lillian Ngoyi and Winnie Madikizela-Mandela, Dlamini said she "stood on the shoulders of giants", in taking up her new position.
"Women have always led. African women have always led, no matter where they found themselves in the world, they just did not receive the recognition for their selfless service," said Dlamini.
Dlamini, a well-known gender equity advocate, touched on key issues with particular emphasis on the struggle for gender equity and transformation in the higher education sector.
All South African Universities are undergoing transformation and students have been vocal about their need for decolonised education and institutions. Dlamini implored students to know their true essence because only then can they effect the desired change.
"Decolonising education starts with knowing your history, knowing who you are and embracing it. It is supported by doing research that seeks to solve African problems, collaborating with institutions of excellence globally, including African institutions."
Dlamini succeeds former Deputy Chief Justice Dikgang Moseneke. Moseneke has served as Chancellor for 12 years. In passing on the baton, he said he was proud and honoured to be succeeded by Dlamini.
Dr Randall Carolissen, Chair of the University's Council, welcomed Dlamini to the institution, saying that Wits is a critical institution in nation building, and that her role will exceed beyond the walls of the University.
"You have an immense role to play in safeguarding Wits University, just as Wits University and others have a role to play in safeguarding our country and the values of our Constitution," said Carolissen.
This sentiment was echoed by the Minister of Science and Technology, Minister Mmamoloko Kubayi-Ngubani, who lauded universities for their role in promoting diversity and spoke strongly against the polarisation of our society.
"Universities are best placed to drive conversations about deepening and protecting diversity and tolerance," said Kubayi-Ngubani.
Citation presented at the Installation
Dr Nobuhle Judy Dlamini is a medical doctor by training, a business leader, a philanthropist and an entrepreneur and author. Her major contribution to humanity stems from her record in creating and adding value to society. Dr Dlamini has worked in different sectors of the economy, using her diverse skill sets and her multiple academic qualifications, University degrees and diplomas across disciplines.
A graduate of four universities in South Africa, including the University of the Witwatersrand, Dr Dlamini is also an alumnus of Stanford University based in the United States of America.
Born on the 6th of July in 1959 in Westville, Natal, to primary school teacher Rita (Ngwane) Dlamini and entrepreneur Thomas Dumezweni Dlamini, Judy was one of nine children. Her parents instilled the value of education as a means of escaping poverty, of enhancing social mobility, as well as providing resilience and strength in the face of adversity.
Dr Dlamini started school at the age of four at Rooikoppies School which was demolished when the area was designated as a "whites only area" under apartheid laws. She had to move to a Catholic school called Mazenod in Chesterville where her mother taught, and she then completed at her schooling at another Catholic school before reading for a medical degree.
In 1985, Dr Dlamini qualified as a medical doctor and graduated from the University of Natal. She served as a general family practitioner for many years before consulting in Occupational Health for various companies, including Rainbow Chicken, Divpac (a NAMPAK subsidiary) and National Ports Operations. She then completed her MBA at Wits University, majoring in Corporate Finance. She joined the HSBC Investment Bank in Johannesburg whilst reading for her second doctorate, this time in Business Leadership at UNISA. Her PhD focused on The intersection of race, gender and social class in women CEOs' career progression and strategies for gender transformation at the leadership level. One of the academic contributions from her research is the WHEEL Theoretical Model.
A successful business leader, Dr Dlamini is the founder and executive Chairman of the Mbekani Group, which celebrated 20 years in business in 2016. The group has operations and investments in different sectors including pharmaceuticals, facilities and property management, tourism, surgical instruments management, and luxury fashion retail. She is also the former chairperson of Aspen Pharmacare Limited and has served on the boards of Anglo American, Discovery Holdings and Woolworths.
The recipient of the African Economy Builder Lifetime Achiever Award for 2016, Dr Dlamini has several accolades to her name. For example, in 2016, she was named the Africa's Most Influential Women in Business and Government according to Global CEOs. She received the SADC South award for the Business and Professional Services sector at the regional and national level and the 2016 Fabulous Woman Award. In 2018, she was the recipient of UNISA's Leadership in Practice Award. She is also the author of Equal but Different: Women Leaders' Life Stories.
Dr Dlamini is the past chairman of the Chemical, Energy, Paper, Printing, Wood, and Allied Workers Union Development Trust, a public benefit organisation. Together with her husband, she co-founded the Mkhiwa trust, a family public benefit organisation that focuses on rural development and education. She is married with two grown children.
Ladies and gentlemen, based on her success, expertise and experience; her value for education; her passion for inclusive development; her commitment to philanthropy and the many attributes embodied by Dr Judy Dlamini that are similarly valued by the University of the Witwatersrand, it is an honour for the University to duly install Dr Nobuhle Judy Dlamini as the Chancellor of the University.