L'Oréal Foundation awards Wits students fellowships
- Wits University
Wits PhD students, Harshna Jivan and Olaperi Okuboyejo have received fellowships from the L'Oréal Foundation.
The fellowships, which are part of the foundation's L'Oréal-UNESCO For Women in Science, aim to improve the position of women in science by recognizing outstanding women researchers who have contributed to scientific progress
The L'Oreal-UNESCO For Women in Science Sub-Saharan Africa regional programme has grown significantly since its inception. "After eight editions in South Africa, we decided to host our ceremony in Nairobi to reinforce our commitment to giving all Sub-Saharan African women scientists an opportunity", says Alexandra Palt, Executive Vice President of the L'Oréal Foundation.
Jivan and Okuboyejo were amongst 14 fellows from five countries in sub-Saharan Africa who gathered in Nairobi, Kenya earlier this month for a training programme that will help strengthen their careers and break the glass ceiling more easily. A jury of independent experts awarded the fellowships from more than 480 applicants, based on the scientific excellence of their work.
"The world needs science, and science needs women: nowhere is this more clearly illustrated than in African countries, which face significant challenges including climate change, access to energy or food security. Science and technology are key to addressing these challenges, and this will not be possible without women. Their talents and perspectives enrich relevant research," says Palt.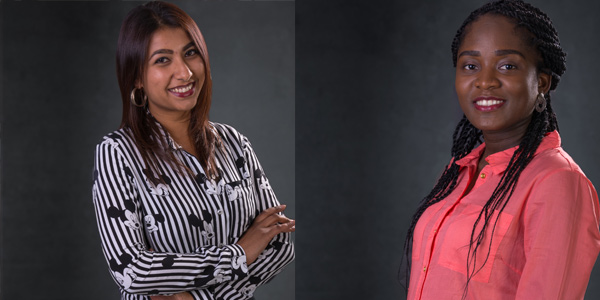 Jivan's PhD in Physics is entitled: Study on the Influence of Nuclear Deformation on the Pygmy Dipole Resonance in Samarium Isotopes while Okuboyejo's PhD in Computer Science is entitled: Enhanced Automatic Feedback Generation for the Learning of Regular Expressions.
They were awarded a research grant at a ceremony with distinguished guests from all over the African continent, including representatives of UNESCO, scientists, academics, intellectuals, thought leaders and organisations promoting gender equality.
The fellows will benefit from a major communications campaign in Africa, designed to promote and publicise their research and raise public awareness. This entire initiative serves one goal: highlight scientific excellence of female researchers in sub-Saharan Africa, in order to create role models, encourage other young women to become scientists and empower women to shape the future of the continent.
ABOUT THE L'ORÉAL-UNESCO FOR WOMEN IN SCIENCE PROGRAMME
Since its creation in 1998, the L'Oréal-UNESCO For Women in Science programme has supported and raised the profile of 3 100 women scientists. While women represent 28% of researchers today, the glass ceiling remains particularly persistent in the field of research: men hold 89% of senior positions in research, and only 3% of Nobel scientific prizes have been awarded to women since the creation of this award.
Each year, the L'Oréal-UNESCO For Women in Science programme honors five international laureates, each representing a region of the world, as well as more than 290 young women researchers who benefit from a research and training grant.
In 2010, the L'Oréal-UNESCO For Women in Science partnership started the For Women in Science Regional Fellowships including the L'Oréal-UNESCO For Women in Science Sub-Saharan Africa Fellowship programme. The objective of the Regional Fellowships is to support young women pursuing scientific careers in dozens of countries throughout the world where L'Oréal does not have a subsidiary. The Sub-Saharan Africa Fellowship programme covers 49 countries.